Naval Destroyer INS Ranvijay safe after it caught fire while in Vizag harbour
A board of inquiry has been constituted as per procedures to ascertain the cause of fire.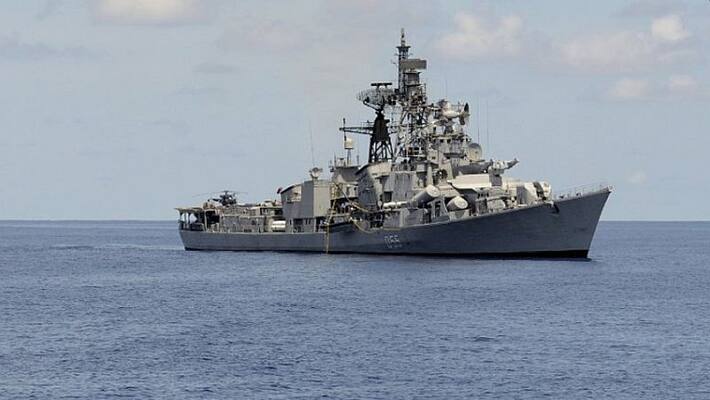 No major damages are being reported in the Indian Navy destroyer INS Ranvijay after the vessel caught fire and reported flooding in some of the decks on Saturday evening at Visakhapatnam harbour under the Eastern Naval Command. However, a board of inquiry has been constituted as per procedures to ascertain the cause of the fire. 
The Indian Navy confirmed that during the firefighting process, four sailors received injuries and were subsequently admitted into INHS Hospital. None of the admitted sailors is critical. The destroyer was standing at the Visakhapatnam naval harbour when it caught fire. A Navy official said that INS Ranvijay had come into the harbour after successful completion of an exercise at sea.   
The destroyer had participated in the Malabar war games involving Quad nations -- India, Japan, Australia and the United States -- which began on October 12 off the Bay of Bengal. The 25th edition of the Malabar exercise concluded on October 15. Commissioned into the Indian Navy in 1987, INS Ranvijay is a Rajput-class destroyer based at Visakhapatnam and has participated in a number of maritime exercises, including Indra War Games and Simbex War Games among others.
According to reports, this is the second instance of fire on board a naval vessel this year. Earlier this year in May, a minor fire was reported on aircraft carrier INS Vikramaditya. However, the fire was brought under control and all sailors were safely rescued. No major damage was reported to the aircraft carrier. 
Also Read
Meet Indian Army's precision deep strike options near China border
From Bofors to Ultra Light Howitzer: India's firepower along China border
Indian Army raises new aviation brigade for LAC operations
How ALH Dhruv is saving lives in Eastern Sector (WATCH VIDEO)
Last Updated Oct 24, 2021, 1:56 PM IST