Govt orders helicopters, warship guns worth Rs 7,965 crore
The proposals are aimed at modernising the armed forces under the government's 'Make-in-India' initiative.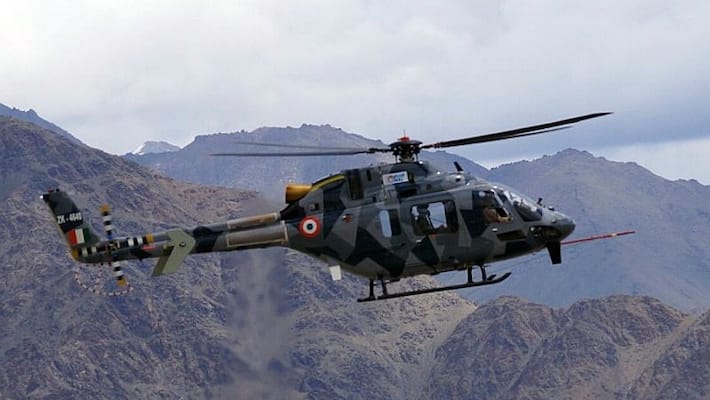 Defence Minister Rajnath Singh-led Defence Acquisition Council on Tuesday gave approval for proposals worth Rs 7,965 crore for armed forces modernisation under the government's 'Make-in-India' initiative.
Among the proposals that were accorded Acceptance of Necessity or approval included those meant for modernisation and operational needs of the armed forces. These include procurement of 12 Light Utility Helicopters from Bengaluru-based Hindustan Aeronautics Limited, 13 Lynx U2 Fire Control System from Bharat Electric Limited to enhance detection tracking and engagement capabilities of naval warships and mid-life upgrade of 25 Dornier aircraft to increase naval coastal surveillance capacity. 
Among the 12 LUH, the Indian Air Force and the Indian Army will get an equal number of choppers. The Dorniers are considered as the workhorses for the Indian Navy. The proposals put special emphasis on design, development and manufacturing in India.
Giving further impetus to 'Aatmanirbhar Bharat', a global procurement case of naval guns has been foreclosed with the guns' quantity added to the upgraded Super Rapid Gun Mount being manufactured by Bharat Heavy Electricals Limited. As per the sources, a total of 20 naval guns would be procured. These SRGMs provide the Navy with special capabilities. The SRGMs, which will be fitted onto the warships of the Indian Navy, engage fast manoeuvring targets using guided munitions and range extensions.
The Navy has in the last five years allocated more than two-thirds of its modernisation budget towards indigenous procurement. In fact, out of the 41 ships and submarines that the Navy has ordered, 39 are from Indian shipyards. This, the defence minister had said, was a testament to the Navy's commitment to 'Atmanirbhar Bharat'.
Addressing the Naval Commanders' Conference recently, Rajnath had asked the Navy to sustain the momentum achieved as far as the indigenisation process is concerned.
Also Read
Indian Army raises new aviation brigade for LAC operations
India successfully tests 5,000 km range Agni 5 missile
How ALH Dhruv is saving lives in Eastern Sector (WATCH VIDEO) 
Last Updated Nov 2, 2021, 3:08 PM IST