India successfully tests 5,000 km range Agni 5 missile
With its range, the Agni V would be capable of striking targets in mainland China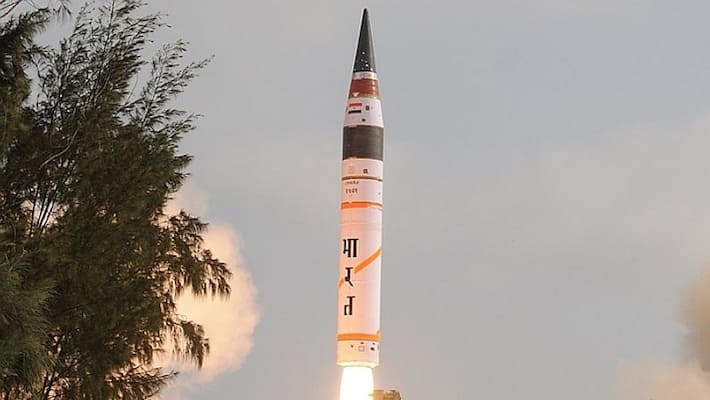 Underpinning the commitment to 'No First Use', India on Wednesday successfully tested surface to surface ballistic missile Agni V from APJ Abdul Kalam Island in Odisha. Using a 3-stage solid fuelled engine system, the missile has the capability to strike targets at ranges up to 5,000 kilometres with a very high degree of accuracy.
The successful test of the missile is in line with India's stated policy to have 'credible minimum deterrence. Designed and developed by the Defence Research and Development Organisation, the Agni V missile is a canister-launched system that is transported by truck. 
With its range, the Agni V would be capable of striking targets in mainland China. Besides China, with its range, Agni V can reach other Asian countries and parts of Europe and Africa. It can carry a payload of 1.5 tonnes and weighs around 50 tonnes.
Also Read: India and US soldiers are doing 'Yudh Abhyas' in Alaska (PHOTOS)
India is the eighth country to have intercontinental ballistic missile capability after the United States, United Kingdom, Russia, China, France, Israel and North Korea. Prior to this, India has inducted Agni III which has a range of 3,000-5000 km. 
Agni-III was commissioned into the Indian armed forces in 2011. Propelled by a two-stage solid propellant, the missile can carry both conventional and nuclear warheads weighing up to 1.5 tonnes. The Agni III missile system is 17 metres tall and has a diameter of two-metre, it weighs around 50 tonnes. All major cities of Pakistan and China come under its range.
Also Read: Meet Indian Army's precision deep strike options near China border
Last Updated Oct 27, 2021, 9:24 PM IST