Balakot strike hero Wing Commander Abhinandan Varthaman promoted to Group Captain
Wing Commander Varthaman's MiG-21 fighter jet shot down a Pakistan Air Force F-16 in a dogfight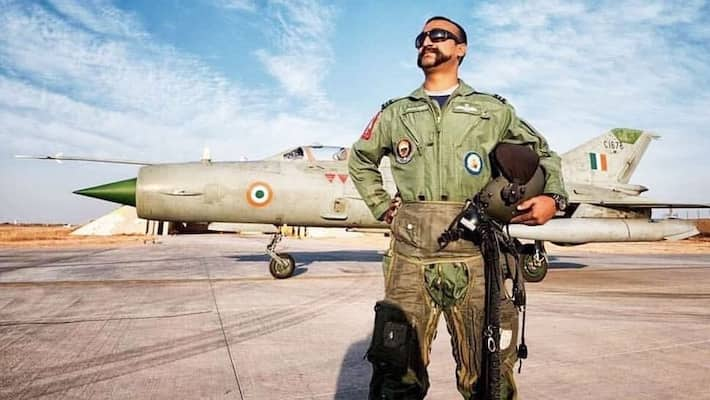 Balakot air strike hero Wing Commander Abhinandan Varthaman has been promoted to the rank of Group Captain in the Indian Air Force, which is equivalent to a Colonel in the Indian Army and Captain in the Indian Navy. An Indian Air Force official told Asianet Newsable that Wing Commander Abhinandan will soon be putting on his new rank. 
Post Balakot airstrike of 2019, the Pakistan Air Force fighter aircraft moved in to target Indian position with advanced beyond visual range air-to-air missiles and air-to-ground stand-off weapons. Having scrambled to the air barely minutes after the Pakistani jets were detected, Wing Commander Abhinandan scanned the airspace with his airborne intercept radar and detected an enemy aircraft that was flying low to ambush Indian fighter-interceptor aircraft. Wing Commander  Abhinandan alerted the other formation pilots about the threat. He then assumed an offensive formation against the hostile Pakistani aircraft. The enemy aircraft was taken aback by the audacious and aggressive manoeuvre.
Wing Commander Varthaman's MiG-21 fighter jet shot down a Pakistan Air Force F-16 in a dogfight. However, his fighter aircraft suffered damages but he managed to safely eject from the aircraft and land in Pakistan-occupied Kashmir. He was taken captive by the Pakistani Army and released after two days amidst huge pressure piled on by New Delhi. 
When he had a dogfight with a Pakistani aircraft, then Wing Commander Abhinandan was serving at Srinagar-based IAF's 51 squadron and had thwarted an aerial attack launched by the Pakistani Air Force on February 27, 2019. While ejecting from his MiG-21 Bison, he suffered injuries but within days after his return from Pakistan, he expressed his wish to the IAF top commanders to resume flying at the earliest.
During the airstrike, the IAF fighter aircraft obliterated a Jaish-e-Mohammed terrorist training camp in Balakot on February 26. The punitive action from India came nearly two weeks after the Pulwama terror attack in which 40 Central Reserve Police Force personnel were killed. 
Also Read
Sensing Chinese threat, India tests rapid response ability at over 14,000 feet in Ladakh
Govt orders helicopters, warship guns worth Rs 7,965 crore
Last Updated Nov 3, 2021, 9:15 PM IST