Sensing Chinese threat, India tests rapid response ability at over 14,000 feet in Ladakh
Sources said that pre-acclimatised troops along with specialist vehicles and missile detachments were transported through C-130 and AN 32 aircraft from five different mounting bases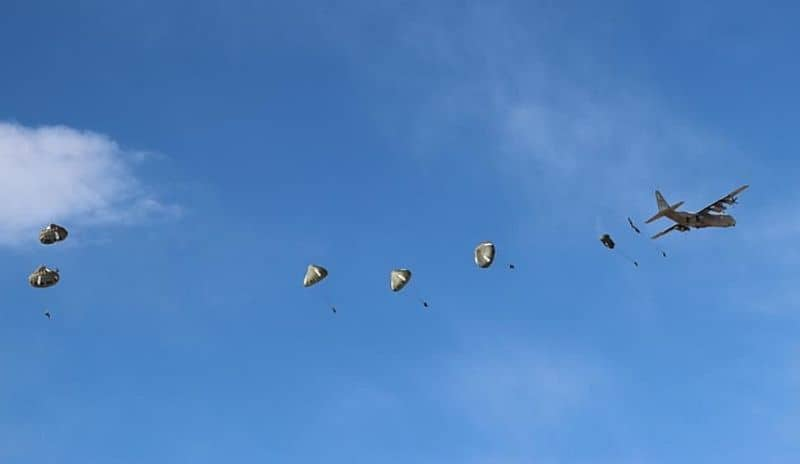 Image: Airborne soldiers being inserted into a drop zone at an altitude of over 14,000 feet
Amid continued tension along the Line of Actual Control in the eastern Ladakh, the Indian Army has carried out an airborne exercise to validate its rapid response capabilities along the northern borders in the Ladakh region. Army sources said that airborne soldiers were parachuted into a drop zone located at an altitude of over 14,000 feet.
Sources said that pre-acclimatised troops, missile detachments and specialist vehicles were transported through AN 32 and C-130 transport aircraft from five different mounting bases to validate precision stand-off drops, rapid grouping, inter-theatre move and capture of designated objectives with surprise.
Image: Machinery being inserted into a drop zone at an altitude of over 14,000 feet
The exercise, which was conducted under the Shatrujeet Brigade of the Indian Army, also involved conducting integrated battle drills by airborne forces, mechanised columns and attack helicopters, oxygen combat free fall jumps and validating capabilities and seamless integration. The exercise is being carried out under challenging circumstances, including low temperatures of up to minus 20 degrees and a rarefied atmosphere in super-high altitude terrain.
The timing of the drill assumes significance as the two neighbouring countries are locked in a border standoff in the region since 18 months. The exercise also comes after the two sides, three weeks ago, held their 13th round of Corps Commanders-level talk that ended inconclusively. Recently, China passed a new boundary law, which New Delhi has called as a "unilateral" move with implications on the bilateral border agreements.
Image: Airborne soldiers being inserted into a drop zone at an altitude of over 14,000 feet