KPL 2019: Full list of all 7 squads with captains
First Published Aug 16, 2019, 10:59 AM IST
Bengaluru: The eighth edition of the Karnataka Premier League (KPL 2019) commences at the M Chinnaswamy Stadium today (August 16). Seven teams will vie for top honours with the final schedule to be held on August 31 in Mysuru. Here is the full list of KPL 2019 squads.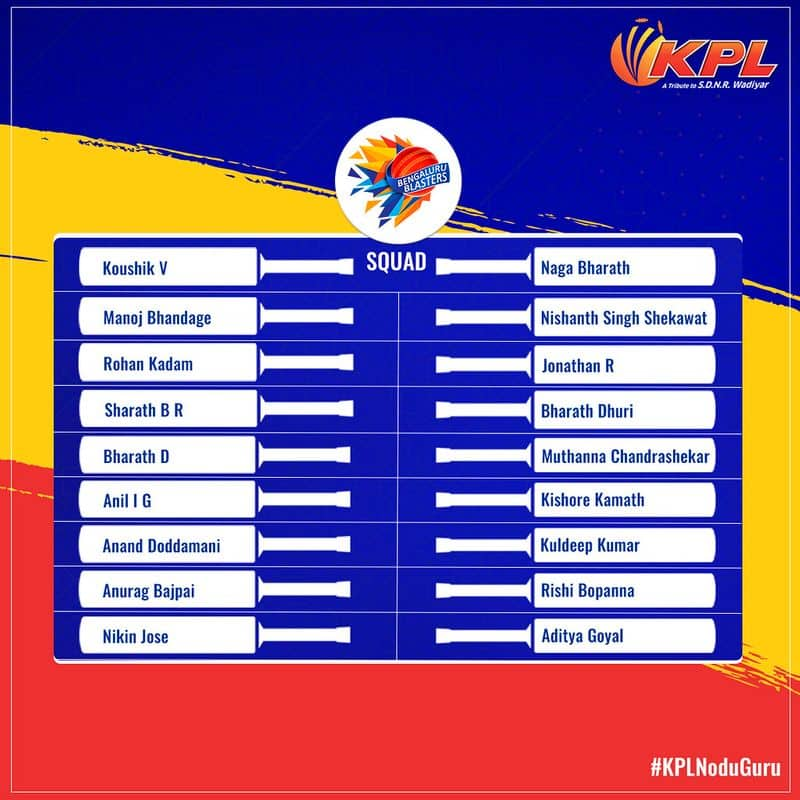 Bengaluru Blasters: Rongsen Jonathon (captain), V Koushik, Manoj Bhandage, Rohan Kadam, Sharath BR, Bharath Duri, Anand Doddamani, Naga Bharath, Bharath D, Anil IG, Nikin Jose, Anuraj Bajpai, Nishant S Shekhawat, Muthanna Chandrasekhar, Kishore Kamath, Kuldeep Kumar, Rishi Bopanna, Aditya Goyal.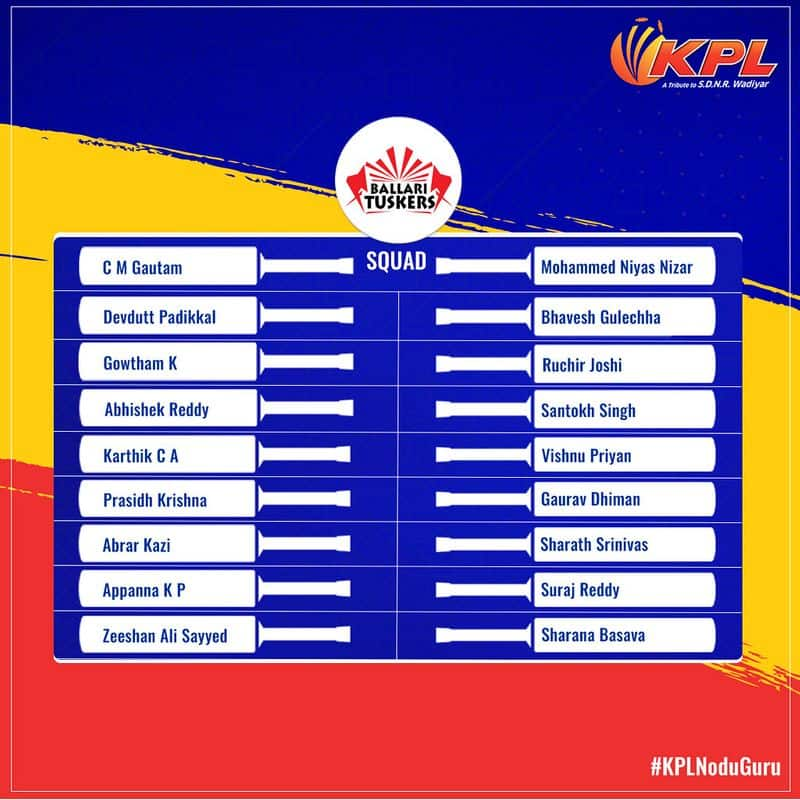 Ballari Tuskers: CM Gautam (captain), Devdutt P, CA Karthik, Abhishek Reddy, Krishnappa Gowtham, Prasidh Krishna, Pradeep T, Abrar Kazi, KP Appanna, Mohammad N Nizar, Bhavesh Gulecha, Zeeshan A Sayyad, Ruchir Joshi, Santok Singh, Vishnu Priyan, Gaurav Dhiman, Sharath Srinivas, Suraj Reddy, Sharana Basawa.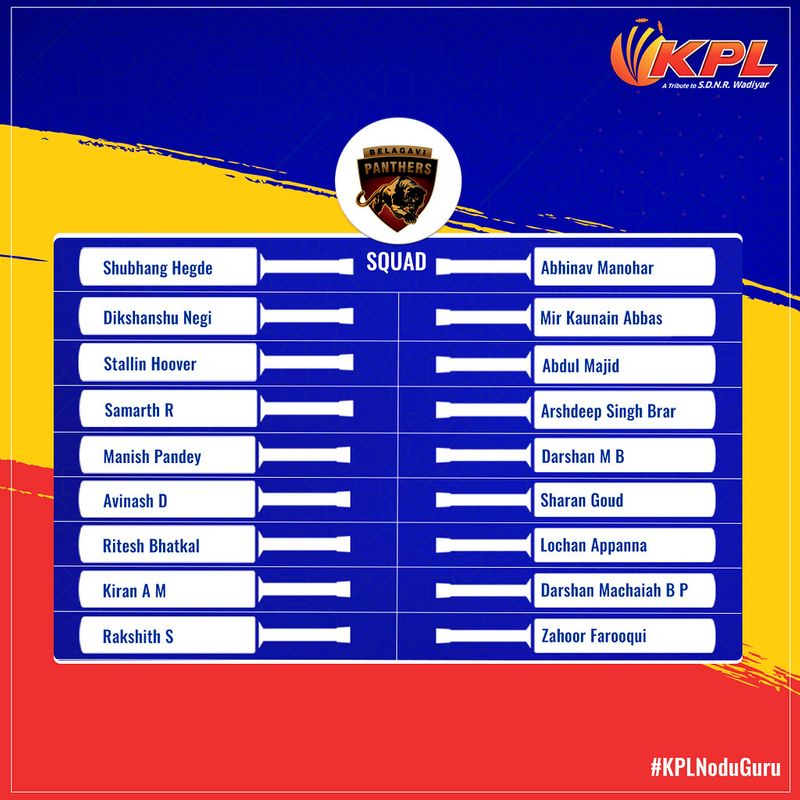 Belagavi Panthers: Mir Kaunian Abbas (captain), Shubhang Hegde, Avinash D, Manish Pandey, D Negi, Abhinav Manohar, Arshdeep Singh Brar, Ritesh Bhatkal, Stalin Hoover, Darshan MB, Ravikumar Samarth, Zahoor Farooqui, Kiran AM, Rakshith S, Lochan Appanna, Darshan Machaiah, Abdul Majid.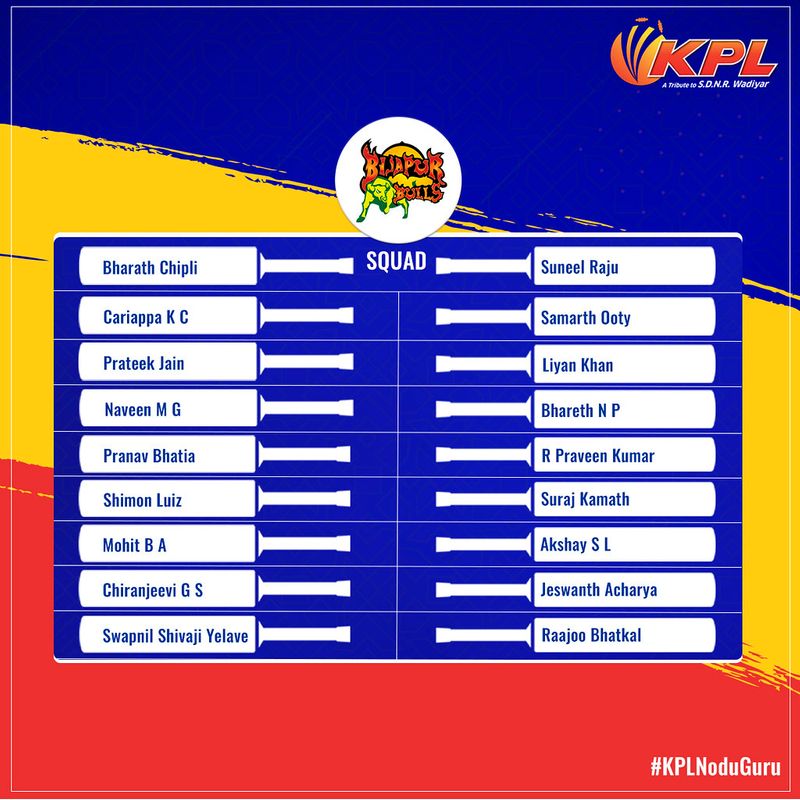 Bijapur Bulls: Bharath Chipli (captain), KC Cariappa, Suneel Raju, Prateek Jain, Bhareth NP, Naveen MG, SL Akshay, Rajoo Bhatkal, Pranav Bhatia, Shimon Luiz, BA Mohit, Chiranjeevi GS, Swapnil Yelave, Samarth Ooty, Liyan Khan, R Praveen Kumar, Suraj Kamath, Jaswath Acharya.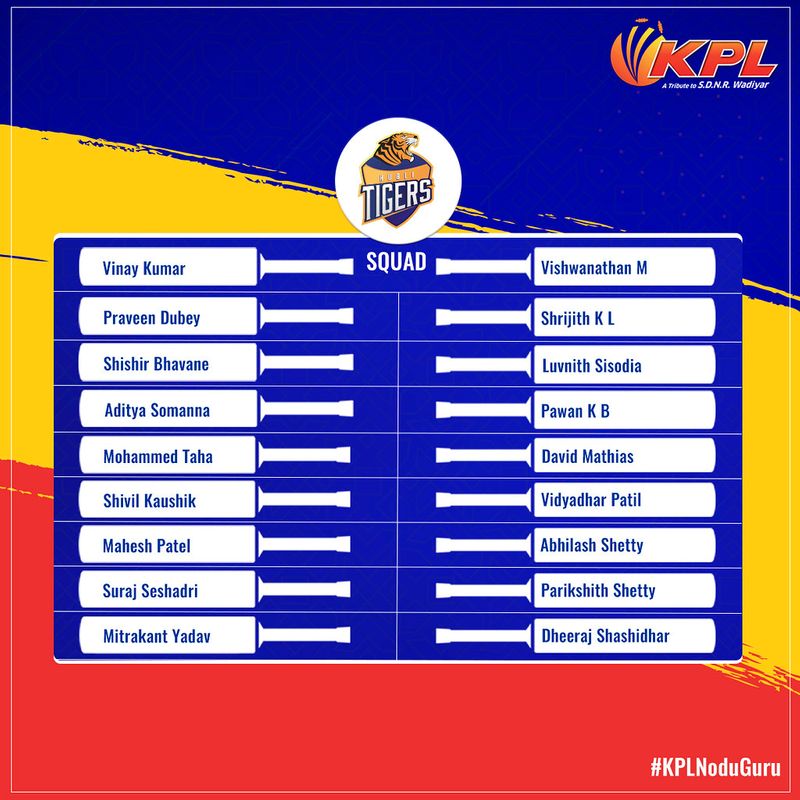 Hubli Tigers: R Vinay Kumar (captain), Praveen Dubey, Mohammed Taha, Pawan KB, Aditya Somanna, Shishir Bhavane, Vidyadhar Patil, Mahesh Patel, Abhilash Shetty, David Mathias, Shivil Kaushik, Suraj Seshadri, Mithrakanth Yadav, Vishwanath M, KL Srijith, Luvnith Sisodia, Parikshith Shetty, Dheeraj Shashidhar.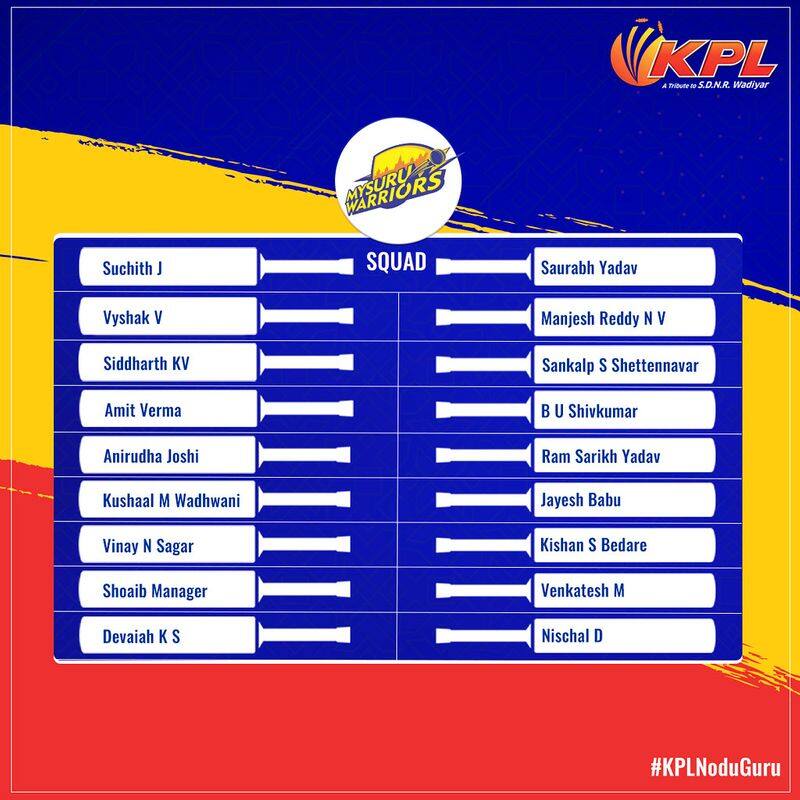 Mysuru Warriors: Amit Verma (captain), Aniruddha Joshi, J Suchith, Vyshak Vijaykumar, Shoaib Manager, M Venkatesh, Devaiah KS, KV Siddharth, Kushal Wadhwani, Vinay N Sagar (wicketkeeper), Saurabh Yadav, Manjesh Reddy, Sankalp Shettinavar, BU Shivkumar, Ram Sarikh Yadav, Jayesh Babu, Kishan Bedare, Dega Nischal.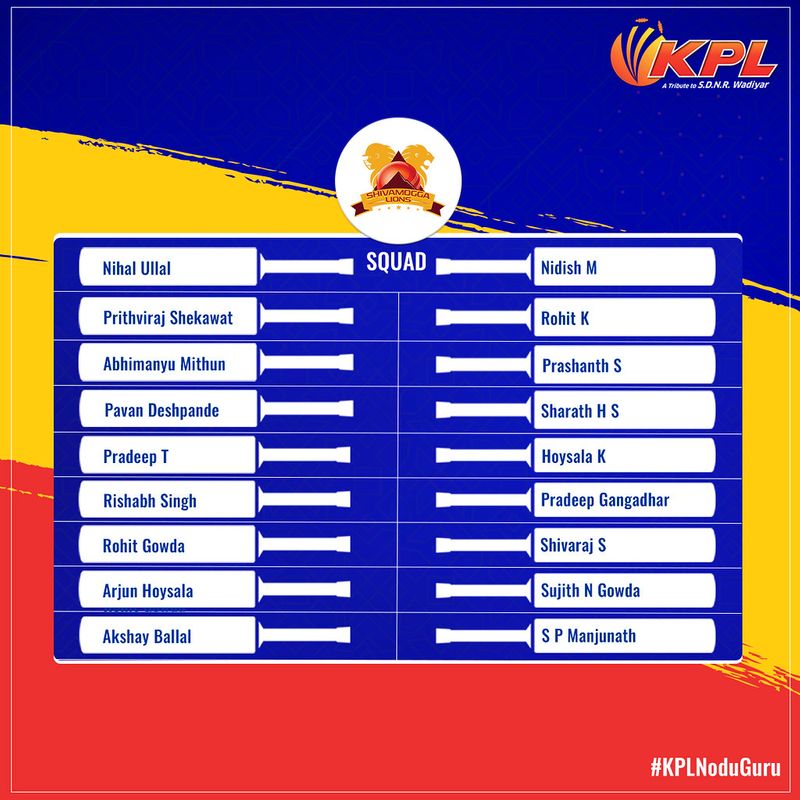 Shivamogga Lions: Abhimanyu Mithun (captain), Pavan Deshpande, Nihal Ullal, Prithviraj Shekhawat, Nidhish M, HS Sharath, Arjun Hoysala, Manjunath SP, Akshay Ballal, Sujith N Gowda, Rishabh Singh, Rohit Gowda, Rohit K, Prashant S, Hoysala K, Pradeep Gangadhar, Shivaraj S.