Meta unveils Ray-Ban smart glasses with live streaming feature; Check out its specs, price & other details
Meta introduced the first-generation smart glasses 'Ray-Ban Meta Smart Glasses' with audio and video features. It is capable to allow the wearer to livestream quickly and take photos as and when it is being requested.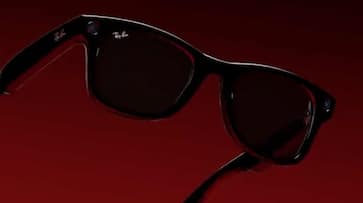 Since OpenAI released ChatGPT and astounded users in November 2022, artificial intelligence has been the buzz of the IT industry. With its human-like replies, the AI chatbot soon attracted attention, and people started looking for applications for the new technology. ChatGPT has undergone several improvements over time and will soon include real-time browsing capabilities. Even IT behemoths like Microsoft and Google have their own AI chatbots.
But Meta was one player who had been absent from the AI race up to this point. Additionally, rumours that Meta was developing its own AI assistant as well as other AI-powered goods have been circulating for a while.
Also Read | Google introduces earthquake alert system for Android users in India; Know how it will work
During its Connect launch event, Meta showcased its new smart eyewear, developed in association with Ray-Ban. In addition to being able to play music, take pictures, and record movies, the glasses can also broadcast what you see on Facebook and Instagram. A white light that pulses around the lens will indicate that a recording is taking place as it is being made.
The Meta AI will also be included in Meta's smart glasses, and you may communicate with it by saying "Hey Meta." However, at the time of debut, the beta version of the Meta AI capabilities will only be accessible in the US. The glasses are up for pre-order and will be on sale on October 17. The price of the smart glasses starts from USD 299.
Also Read | Flipkart sale 2023: MASSIVE discounts expected on phones from Samsung, Motorola, Vivo & more
Additionally, Meta finally unveiled its own AI assistant as well as smart glasses that can broadcast what you view. Additionally, the company's Meta AI AI assistant will soon be accessible on Facebook, Instagram, and WhatsApp.
When discussing its next AI helper, Meta revealed that it will go by the moniker Meta AI. Thanks to Meta's collaboration with Microsoft Bing, the AI assistant can now produce visuals.
Also Read | Apple iPhone 14 available for Rs 34,399 ahead of Flipkart sale 2023; Check deal details
Last Updated Sep 28, 2023, 11:47 AM IST