iPhone 15 series: How will USB-C port benefit Apple users for data transfer?
With iPhone 15 models expected to move to USB-C, here's why it's could be big win for content creators and users who transfer files frequently. For those unfamiliar, Apple iPads have already transitioned to USB-C and allow users to use the USB-C port.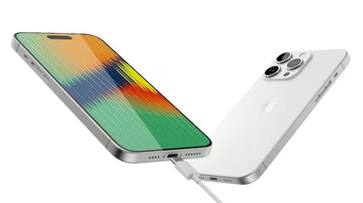 Apple's iPhone 15 series is widely expected to come with USB-C as the default port—replacing the Lightning connector introduced with the iPhone 5 in 2012. While an average user who doesn't pay much attention to their phone's port may not see this as a significant change, power users and individuals who routinely use their iPhones for content production and subsequent file uploads to their PCs would undoubtedly benefit greatly from it.
We say this because the upcoming iPhone 15 models should potentially support USB-C, allowing customers to quickly transfer files by simply connecting SSDs and flash drives. For those who don't know, Apple iPads have already made the switch to USB-C, and users may utilise the USB-C connector and the Files app to quickly copy and paste data. This makes the file sharing procedure convenient and eliminates the need for AirDrop, which can be unstable, especially when working with several large files. Therefore, USB-C could reduce time, especially for multimedia producers.
Also Read | iPhone 15 Pro, iPhone 15 Pro Max may cost upto $200 more than iPhone 14 Pro; Here's why
While the shift to USB-C is almost inevitable, recent reports suggest that the USB-C port on the standard iPhone 15 models could remain USB 2.0. This implies that users may experience the same slow speeds as those supported by the current Lightning connector.
It's important to note that the more costly iPhone 15 Pro models will allow faster transfer rates, according to the tipster Majin Bu on X (previously Twitter). The iPhone 15 Pro will at the very least support the USB 3.2 or Thunderbolt 3 standards, according to reputable analyst Ming-Chi Kuo.
Also Read | Google Pixel 8, Pixel 8 Pro to debut on October 4; Check out expected colour options & more
All uncertainties will be cleared at Apple's 'Wonderlust' event on September 12, where the company is also expected to unveil the new Apple Watch Series 9 and the next-generation Apple Watch Ultra.
Last Updated Sep 5, 2023, 2:20 PM IST