iPhone 15 Pro, iPhone 15 Pro Max may cost upto $200 more than iPhone 14 Pro; Here's why
iPhone 15 Pro and iPhone 15 Pro Max could be $100 and $200 more pricier than the predecessors. The iPhone 15 Pro series price hike could be attributed to two reasons: build and camera. The iPhone 15 Pro Max could sport 5-6x lossless zoom.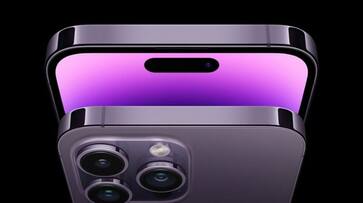 Apple is gearing up to launch the iPhone 15 series on September 12. While new features are anticipated for the whole iPhone 15 series, the Pro models are anticipated to step things up a level. Due to this, the iPhone 15 Pro and iPhone 15 Pro Max are anticipated to cost $100 and $200 more than their iPhone 14 equivalents, respectively. 
The entry-level 128GB storage option of the iPhone 14 Pro was priced at Rs 1,29,900 ($999 in the US) at the time of its debut in India. There are now rumours that the next model may cost $100 more than the current one. 
According to the reports, the iPhone 15 Pro price might start at $1,099 while the iPhone 15 Pro Max price could cost $1,299, which would be $200 more expensive than the iPhone 14 Pro Max.  Reports further suggest that the construction and camera of the iPhone 15 Pro series will cause it to cost more than its predecessors. More particularly, the iPhone 15 Pro Max's periscope camera and the earlier-speculated titanium casing for both Pro variants.
Also Read | Google Pixel 8, Pixel 8 Pro to debut on October 4; Check out expected colour options & more
In comparison to stainless steel, titanium is said to offer a stronger strength-to-weight ratio and better resistance to corrosion. Apple watches have previously used titanium, and the titanium versions are more costly than the steel counterparts.
Although it has long been a feature of many high-end Android phones, the periscope camera will be making its debut on an iPhone for the first time. The iPhone might use a periscope arrangement, which consists of a mechanical lens assembly and a prism/mirror, to zoom in on distant objects without sacrificing image quality.
Also Read | iPhone 15 series to go on sale in India along with global debut: Report
There are rumours that the iPhone 15 Pro Max will include a 5x to 6x optical zoom capabilities. Other claims claim that the magnification might potentially reach 10x. Therefore, the output would be lossless when zoomed in, and the iPhone wouldn't need to become any bigger to accommodate this configuration.
In addition to these two factors, the future iPhones might also be attractive for other reasons, such as an entirely redesigned Action Button, a USB Type-C port with high bandwidth and quick charging, and a more robust A17 Bionic CPU. 
Also Read | WhatsApp to roll out new toggle feature for video messaging: Report
Last Updated Sep 5, 2023, 1:03 PM IST