Google Pixel Watch 2 with improved battery life and focus on health features launched
The new Pixel Watch 2 was be the first product to be announced at the event. It is completely upgraded inside and outside with the goodness from Fitbit, said Google.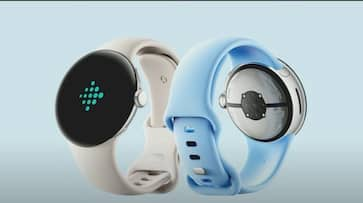 The new Pixel Watch 2 was the first product to be announced at the event. According to Google, it has been extensively improved both inside and out with the help of Fitbit. It boasts a quad-core CPU, better battery life, and a large number of software options.
According to Google, the new Pixel Watch bands will work with the new Watch 2 as well, so you won't have to throw them out and buy new ones. A new safety check should make it easier for you to inform people in an emergency. It also has an upgraded heart rate monitor.
The electrodermal activity sensor, which is now capable of providing you with improved data on breathing and other crucial elements of health, has been updated by Google along with other health sensors.
Google has updated the Fitbit app to provide you with detailed health information and to incorporate a customized AI version that will work with your existing data to provide you with insights and alarms. Google's biggest chance to compete with the watchOS ecosystem is probably AI. The upgraded Pixel Watch 2 gets new quad core CPU. It gets 24 hours of battery on single charge. The watch can now supports Google Maps and Gmail. 
Pixel Watch 2 is priced at $349 and pre-orders start today. It will be available in both Wi-Fi and LTE variants. You also get 6 months of Fitbit premium.
Last Updated Oct 4, 2023, 8:08 PM IST