Apple store staff directed to recommend USB-C chargers to iPhone 15 series consumers
Apple retail employees are reportedly being drilled to emphasize to customers at the point of sale that the switch to USB-C means the new devices cannot be charged with existing Lightning charging cables that they may already own.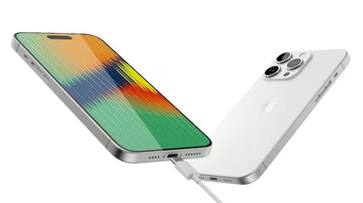 Apple is urging its retail staff to be knowledgeable on the new items coming out this year as it prepares for a new iPhone event. The new iPhone 15 series is generating a lot of buzz, not just because new cameras are anticipated, but also because it will accept USB C charging, which is the largest upgrade to an iPhone to yet.
Also Read | Apple to stop discontinue mini lineup after iPhone 15 series launch: Report
Over the years, Apple has placed a significant amount of reliance on the accessory industry, which has grown since the firm chose to remove the charger from the box. And now, rumours claim that Apple is educating its store employees and instructing them to urge anybody purchasing an iPhone 15 to also purchase a USB C charger.
According to the manufacturer, in order to get the most out of their iPhone 15 model, customers will need to purchase the new charger separately because the previous cords won't function with it. In fact, Apple may provide color-coordinated USB-C charging cords with the iPhone 15 series, which would probably persuade customers to buy one for their iPhone. After the new EU law required all phone companies to provide a single charger for all mobile devices, Apple is finally transitioning to USB-C for iPhones.
Also Read | iPhone 15 series launch: When, where to Apple 'Wonderlust' event? What you can expect?
The majority of Android phones already have USB-C charging connectors, thus the new regulation was intended to force Apple to conform with the regulations, which it believed may stifle innovation.
Thanks to the introduction of USB-C, reports claim that iPhone charging speeds might eventually reach 35W. However, this feature is likely to be restricted to the Pro variations as the business aims to give customers additional reasons to purchase the more expensive models. In addition to the current iPhone devotees, Apple could finally persuade Android users to switch platforms this year, according to a recent market survey, suggesting the business might even profit from the shift.
As Apple prepares for its largest launch of the year, the debut is just a few hours away, and we'll have all the live updates from the event at the Steve Jobs Theatre on Tuesday.
Also Read | Apple Wonderlust event: From iPhone 15 series to Watch Series 9; check out expected announcements
Last Updated Sep 12, 2023, 11:57 AM IST