iPhone 15 series launch: When, where to Apple 'Wonderlust' event? What you can expect?
Apple "Wonderlust" event where the company will launch the iPhone 15 series will be available to stream across platforms, starting Sept. 12 at 10:30 PM IST. You can easily watch Apple's "Wonderlust" keynote where Cupertino will launch the iPhone 15 series on YouTube.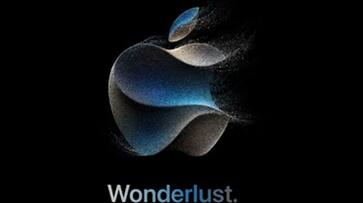 Apple's "Wonderlust" keynote is making rounds on the internet, and people are waiting to know everything about the iPhone 15 series. The event will take place on Tuesday, September 12 at 10 AM PT, or 10:30 PM IST. 
The iPhone 15 series, which includes the iPhone 15, iPhone 15 Plus, iPhone 15 Pro, and the iPhone 15 Pro Max, is anticipated to debut during this year's event. This year's iPhone receives several updates, as per earlier speculations, and it will be fascinating to watch how Apple markets it.
What to expect at Apple Wonderlust?
iPhone 15 Pro models could feature titanium frame, replacing steel 
All iPhone 15 models could switch to USB-C
iPhone 15 Pro may weigh less than its predecessor – iPhone 14 Pro
Apple may launch new Watch
Talks on Vision Pro is also on the cards
Also Read | Apple Wonderlust event: From iPhone 15 series to Watch Series 9; check out expected announcements
How to watch the Apple Wonderlust event?
YouTube will make it simple for you to watch Apple's "Wonderlust" presentation, during which Cupertino will introduce the iPhone 15 series. Don't worry; simply click the play button above. 
Users of Apple TV may simply open the TV app and navigate to the "Apple Special Event" area to stream current events or view previous ones. 
You may still watch the event live on the Apple Events area of the company's official website if you don't have an Apple TV or would rather not utilise YouTube. This feature is compatible with major browsers including Safari, Mozilla Firefox, Microsoft Edge, and Google Chrome.
Also Read | Google Pixel Watch 2 to launch in India along with Pixel 8 series | WATCH
Last Updated Sep 11, 2023, 5:44 PM IST