Youtuber Fidias demonstrates 'How to get inside Bengaluru metro for free', gets criticised by his fans
A Cypriot YouTuber, known for humorous content, sparked outrage by posting a video on Instagram demonstrating how to sneak into Bengaluru Metro without a ticket. Viewers criticized him for encouraging illegal behavior, while authorities promised increased surveillance at stations to prevent such incidents.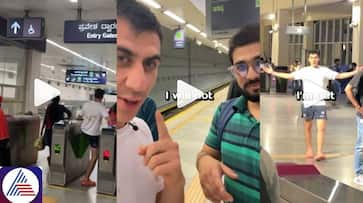 A YouTuber from Cyprus, famous for making funny videos, is in trouble after he posted a video on Instagram showing how to sneak into the Bengaluru Metro without buying a ticket. People are upset with Fidias Panayiotou for what they see as stealing from the city.
In the video, Panayiotou says, "I'll teach you how to ride the metro in India for free." He goes up to people entering the Bengaluru Metro station and asks if they think he can get in without a ticket. When they doubt it, he confidently walks past the place where you're supposed to show your metro card or token and jumps over the barriers to get on the platform.

Bengaluru: Byappanahalli metro station gets additional escalator to ease passenger footfall
Later in the video, Panayiotou meets the same people on the platform, and they tell him that the real challenge will be leaving the station without a ticket. But he doesn't seem bothered and takes the metro to another station, where he does the same thing again, skipping the ticket-checking counter without any security guards stopping him.
People are really mad about this video, saying that what Panayiotou did was wrong and against the law. Some say he's stealing from the hardworking people of India, and others are disappointed that someone with so many followers would encourage such behaviour.

Bengaluru Metro: Survey shows 95% people prefer using Namma Metro over vehicles
People are also upset that there didn't seem to be enough security to stop Panayiotou from doing this. Some have asked the police and other local authorities to do something about it and make sure this doesn't happen again.
The Bengaluru Metro Rail Corporation Limited (BMRCL) responded to the incident by saying they would increase surveillance at stations to prevent similar things from happening. A.S. Shankar, BMRCL's Executive Director of Operations and Maintenance, confirmed that they are stepping up their efforts to keep an eye on things in light of what happened.
Last Updated Sep 23, 2023, 5:18 PM IST