Bengaluru Metro: Survey shows 95% people prefer using Namma Metro over vehicles
In a comprehensive survey conducted by two leading private organizations, a staggering 95 percent of Bengaluru's residents have expressed their strong inclination towards commuting via the metro train system instead of using their own private vehicles.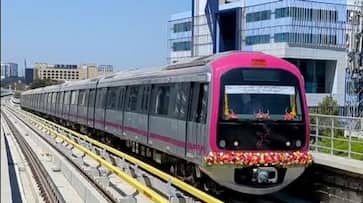 This study offers valuable insights into the city's transportation preferences and needs. The joint survey, spearheaded by Bengaluru Political Action Committee (B-PAC) in collaboration with the World Resources Institute (WRI) India, unveiled several noteworthy insights.
A total of 3,855 respondents were surveyed across the city, with a particular focus on the Outer Ring Road. Among them, 1,172 individuals relied on cars, while 1,046 chose two-wheelers for their daily commute. Significantly, 70% of those surveyed expressed their willingness to embrace efficient public transportation for their daily journeys from home to the office.
Bengaluru metro: Tunnelling of 17 km along Nagavara metro line is complete
Furthermore, respondents revealed that a typical one-way trip by private two-wheeler or car consumed between 45 minutes to an hour. Conversely, the metro system promised a swift and reliable journey, covering the same distance within just 45 minutes.
Srinivas Alavilli, representing WRI India, emphasized that public transport networks could significantly alleviate the city's notorious traffic congestion. 
Plans to connect Whitefield with other city areas through the Metro were discussed, alongside the integration of feeder buses with the Purple Line Metro Ring Road, aimed at enhancing connectivity to Tech Parks.
The survey results underscored the importance of addressing first and last-mile connectivity challenges and implementing a unified ticketing system, encompassing various modes of transport, including BMTC buses. 
Residents are hopeful that such improvements will bring positive changes to Bengaluru's commuting experience.
Last Updated Sep 5, 2023, 5:26 PM IST