Yashica Dutt accused of plagiarism herself after calling out makers of 'Made in Heaven 2' for same
Using her Instagram platform, Yashica Dutt penned a detailed message, addressing Zoya Akhtar and colleagues for failing to acknowledge her contribution to the Radhika Apte episode. However, now the writer herself has been accused of plagiarism. - By Mahasweta Sarkar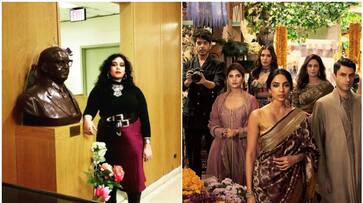 Amazon Prime Video's 'Made In Heaven 2' remains a buzzworthy series. Crafted by Zoya Akhtar, Reema Kagti, Nitya Mehra, Alankrita Shrivastava, and Neeraj Ghaywan, the show garnered attention, particularly for an episode starring Radhika Apte. Critically, Dalit Author Yashica Dutt exposed the use of her content without credit in the series, leading to controversy around the show's ethical practices.
Yashica Dutt, in turn, faces allegations of plagiarism. A legal scholar recently voiced on Twitter, accusing Dutt of using his work without seeking authorization. Sharing Dutt's news article, the scholar wrote, "Proprietary claims to ideas and stories are also characteristic of a system that rewards seemingly individual effort over interdependent ways in which ideas are conceived, shaped, formed, advanced, received, amplified, and encashed."
ALSO READ: OMG 2: Film inspires Ulhasnagar Education Society to incorporate Sex Education in school curriculum
"Amusing to note the obvious hypocrisy here—of @YashicaDutt's failure to credit my article (of 2007) in her book (of 2019)," he tweeted further.
Yashica Dutt posted an extensive Instagram message last week, tagging Zoya Akhtar and Reema Kagti. In Made In Heaven 2's Episode 5, titled "The Heart Skipped a Beat," Radhika Apte portrays Dalit author Pallavi Menke. The episode revolves around a Dalit Buddhist wedding, highlighting the groom's family's discriminatory attitudes.
Claiming that the episode is inspired by her life, Dutt wrote, "It's been an overwhelming few days. Seeing my likeness on screen without warning or permission was a roller-coaster starting from thrill and excitement to sadness and loss. I continue to support @neeraj.ghaywan's excellent work, whether now with Made in Heaven or Geeli Pucchi before. But this needs to be addressed."
ALSO READ: Dream Girl 2: Jeetendra's playful flirty banter with Ayushmann Khurrana's character Pooja is funny
Last Updated Aug 21, 2023, 12:09 PM IST