Dream Girl 2: Jeetendra's playful flirty banter with Ayushmann Khurrana's character Pooja is funny
Dream Girl 2, which stars Ayushmann Khurrana and Ananya Panday, arrives in cinemas on August 25. A new promo featuring veteran star Jeetendra has dropped ahead of the release in which Jeetendra engages in playful banter with Ayushmann Khurrana's character and alter ego Pooja.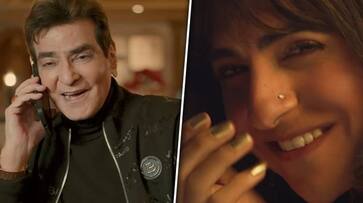 Dream Girl 2, led by Ayushmann Khurrana, is set for a theatrical release this week. Serving as a sequel to the 2019 hit Dreamgirl, the film also features actress Ananya Panday portraying the romantic interest of Ayushmann. Shobha Kapoor and Ekta Kapoor have backed the film under their Balaji Motion Pictures production banner. The buzz for the film has increased and amplified by its quirky and refreshing trailer with croon-worthy songs. The marketing team conceptualized a distinctive promotional strategy, displaying the character of Ayushmann, Pooja, in entertaining interactions with famous personas such as Shah Rukh Khan-led Pathaan and Ranveer Singh-led Rocky.
In a recent video, veteran actor Jeetendra, father of noted Bollywood producer and TV czarina, Ekta Kapoor, engaged in a playful and funny conversation with Pooja, leaving the audiences and fans in peals of laughter.
ALSO READ: When Justin Bieber 'abused all relationships' before marrying Hailey Baldwin; Know details
In a new video shared by the team of Dreamgirl 2, actor Jeetendra indulged in lighthearted and entertaining funny banter with the character of Ayushmann Khurrana, Pooja. The clip starts with Jeetendra covertly dialling the number of Pooja.
Upon answering the call, Pooja utters, "Oh my god, paye lagu uncle," to which Jeetendra swiftly retorts "Uncle nahi! Call me Jeetu. You can call me Jeets also." Pooja responds, "Aapka naam lene mein darr lagta hai," prompting the veteran actor to cleverly quip, "Darr ke aage jeet hai, aur jeet ke aage Jeetendra." He queries about her arrival. Pooja playfully replies, "Aapke toh ghar ki baat hai, ghar par puch lijiye." The star counters, "Ghar me 'Ekta' nahi hai, mera matlab bahar gayi hai, aur waise tumhare hote hue 'Shobha' nahi deta ki mai kisi aur se puchu, tum hi bata do na."
ALSO READ: Jacqueline Fernandez in New York: Actress participates in India Day Parade
Last Updated Aug 21, 2023, 11:20 AM IST