Who is Madhavan Nair? Legendary Malayalam actor Madhu turns 90
Madhu is one of the legendary actors in Malayalam cinema and has acted in more than 400 films over several decades. The veteran actor is celebrating his 90th birthday today.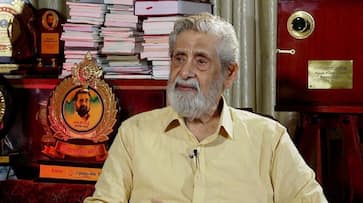 Malayalam's legendary actor and one of India's greatest actors Madhavan Nair aka Madhu turned 90 today. In a span of six decades, he has acted in more than 400 films. He is an actor, director and producer. He has also acted in certain Hindi and Tamil films. Madhu was one of the lead actors in the Hindi film Saat Hindustani, which was the debut movie of the Bollywood actor Amitabh Bachchan in 1969. His other Hindi films are 'Chakachak' directed by Sai Paranjpye and Maiyya directed by Anil.
Madhu began working as a teacher at Hindu College in Nagercoil but quit to attend the Delhi School of Drama later in his career. He made his acting debut in the movie "Ninmaninja Kalpadukal," and over the course of his career, he played over 500 characters. In 1995, at the 43rd National Film Awards, 'Mini', a film that Madhu produced, got the National Film Award for Best Film on Family Welfare. The main topic of the movie is alcoholism as a social problem.
His performance in Kariat's Chemmeen, which won the President's Gold Medal, may have been his most illustrious performance throughout his early career. At a time when performers like Prem Nazir and Sathyan dominated lead roles in Malayalam cinema, Madhu entered the industry and carved out a name for himself. Some of his notable films include "Manthrakodi," "Umaasundari," "Chemmeen," "Swayamvaram," "Nadodikkattu," and "Pappayude Swantham Appoos."
In addition, Madhu produced and directed  totally American-shot English film "Sunrise in the West." He played a key role in the introduction of several outstanding actors, directors, lyricists, producers, singers, and other technicians to the Malayalam cinema industry. He was the owner of Puliyarakonam's once-famous Uma studio in Thiruvananthapuram.
Madhu was awarded the Padma Shri by the Government of India in 2013 for his contributions to the arts. He was honored with the J. C. Daniel Award by the Government of Kerala in 2004, for his outstanding contributions to Malayalam films. He is the president of the Indian People's Theatre Association (IPTA) Kerala Unit.
Last Updated Sep 23, 2023, 11:01 AM IST