When Karan Johar cried in front of Salman Khan during Kuch Kuch Hota Hai (THROWBACK)
Karan Johar started his career as a bollywood filmmaker in industry by directing Kuch Kuch Hota Hai. It starred Shah Rukh Khan and Kajol, with Salman Khan and Rani Mukerji in supporting roles and is an iconic film today.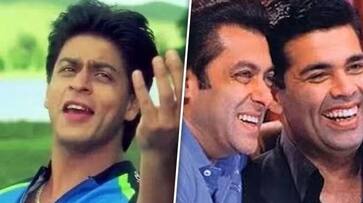 Karan Johar is enjoying the phenomenal success of his recent movie Rocky Aur Rani Kii Prem Kahaani, starring Alia Bhatt and Ranveer Singh. Karan is also busy promoting his next production, Kill, directed by Nikhil Nagesh Bhat, across the globe. Globally acclaimed maverick Bollywood filmmaker Karan Johar started his film career by directing the romantic movie Kuch Kuch Hota Hai. The film featured Shah Rukh Khan and Kajol as the main actors, with Salman Khan and Rani Mukerji in supporting roles. Recently, Karan talked about how he chose actors for the key roles. The hard work he put in to convince Salman Khan to join the cast, especially after other actors like Chandrachur Singh and Saif Ali Khan had declined the role of Aman Mehra.
ALSO READ: Actor Prakash Raj complains against Bengaluru YouTube channel, accuses of threatening his life
Karan said, "After Chandrachur Singh and Saif Ali Khan said no. I was very depressed. One day, I was at Chunky Panday's house for a party. Salman came up to me. He said I heard you have been shopping. He said you need to be really confident to do that part and asked me to come and narrate it to him the next day."
He considered it a great chance and followed the instructions of Salman. Karan had arrived at the Jab Pyaar Kisise Hota Hai sets at 8:45 a.m. for a 9 a.m. shift. The film was backed and produced by Ramesh S Taurani. Karan also shares, "He looked at me and said, Are you crazy? He is not coming before 2. But I was like, I will do what it takes."
Revisiting the first day of the shoot, Karan said, "We were filming the song Saajanji Ghar Aaye. Salman came in wearing torn jeans and a black t-shirt. We had made a suit for him. I was scared of Salman. I am still. At that moment, he said, you know what, no dulha has ever worn torn jeans and made it a trend. Though I said okay, I immediately sensed my blood pressure rising. At one point, I told him that the film set is grand and Kajol is wearing this huge lehenga. But he said he wants to do this in a T-shirt. I reluctantly said no and then burst out crying in front of him. I started pleading with him to wear the suit and mentioned that it was my first film. He quickly agreed to wear the suit and asked me to stop crying."
ALSO READ: Parineeti Chopra Raghav Chadha wedding: Food menu revealed; Read to know more
Last Updated Sep 20, 2023, 8:18 PM IST