When Irrfan Khan was trying to hide his pain behind his humour
Two years ago, Irrfan Khan's wife and producer Sutapa Sikdar said her "warrior" husband is fighting every obstacle in the path to recovery and hopes he would emerge a winner after their struggles are over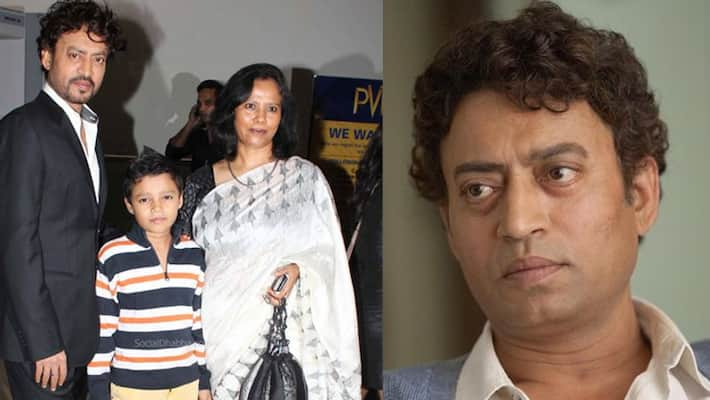 Ever since Irrfan Khan announced that he was suffering from a "rare disease", rumours started circulating that he has brain cancer and has been admitted to Kokilaben Hospital in Mumbai.
The speculation was quashed by both Irrfan's team and hospital authorities. The actor had said he would share details when there was a conclusive diagnosis.
   
Thanking well-wishers in a Facebook post, Sutapa said her prime focus as of now was to support her husband in devising "strategies of the battlefield which I have to conquer".

   
"My best friend and my partner is a 'warrior' he is fighting every obstacle with tremendous grace and beauty. I apologise for not answering calls messages, but I want all of you to know I am truly humbled indebted forever for the wishes prayers and concern from all over the world.
   
"I am grateful to God and my partner for making me a warrior too. I am at present focused in the strategies of the battlefield which I have to conquer. It wasn't and isn't and is not going to be easy but the hope ignited by the magnitude of family, friends and fans of Irrfan has made me only optimistic and almost sure of the victory," she wrote.
   
Sutapa, who has produced Irrfan's films such as Madaari and Qarib Qarib Singlle, implored people not to "waste our precious energies" in speculating about the actor's illness. She, instead, requested them to pray for his well-being.
   
"I know curiosity germinates from concern but let's turn our curiosity from what it is to what it should be... Let's not waste our precious energies to only know what it is and just prey to make it what it should be.
   
"My humble request to all of you is to concentrate on the song of life, to dance of life to victory. My family will soon join in this dance of life," she wrote.
Last Updated Apr 29, 2020, 12:46 PM IST