WATCH: Bobby Deol does not help 'stunt man' to 'get up'; video goes VIRAL on Reddit
A video has gone viral in which Bobby Deol walks away after a shot instead of offering a helping hand to a fallen stuntman. This video has gone VIRAL on the social media networking platform Reddit. Watch the video here.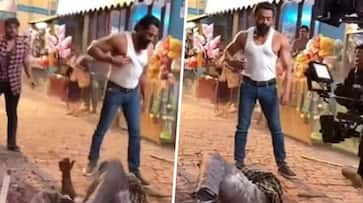 Since the release of Ranbir Kapoor-led-action-thriller drama film Animal Teaser, fans have not stopped talking about how Bobby Deol stole the show with his bold look towards the end of the video. The look of Bobby in the film has taken the internet by storm. The fans cannot stop gushing over his powerful expressions and fit body. However, amid this praise, a new video is getting viral on social media in which Bobby walks away from a fallen stuntman instead of helping him get up.
ALSO READ: Vijay Deverakonda's photos of performing Dussehra Puja with rumoured GF Rashmika Mandanna goes VIRAL
The clip is from the shoot of an ad film. In the video, Bobby pretends to punch a stuntman, who then flips in the air and falls on a set of tables, breaking the furniture. When the shot is over, instead of helping the man get up, Bobby walks away from him. Other crew then offer the man a helping hand. Netizens are now criticizing Bobby for not helping the man out.
Stuntmen are very underrated and unappreciated. Didn't like that Bobby didn't give a hand to the guy after the cut.
byu/humbhihaijoshmai inBollyBlindsNGossip
The clip has now gone viral on the internet, and netizens have flooded the comments section with their hot takes. One person wrote, "Bollywood is very insensitive and dark as you will get to see it close. Low expectations will help you survive it." Another added, "That was a really great flip by the stunt guy without any cables. He needs to be appreciated more. Many of these Bollywood guys are obnoxious and rude, so it is surprising that Bobby did not even look at him." One person wrote, "He could have given him a hand. Come on!!!."
Meanwhile, Bobby Deol's Animal will be released in theatres on December 1. Much-awaited Sandeep Reddy Vanga directorial features Ranbir Kapoor, Rashmika Mandanna and Anil Kapoor with several others.
ALSO READ: Leo director Lokesh Kanagaraj suffers leg injury during promotion in Palakkad
Last Updated Oct 24, 2023, 3:40 PM IST