Waheeda Rehman honoured with Dadasaheb Phalke Lifetime achievement award; Anurag Thakur confirms
Veteran actress Waheeda Rehman honored with Dadasaheb Phalke Lifetime Achievement Award for her outstanding contributions to Indian cinema, celebrated by Information and Broadcasting Minister Anurag Thakur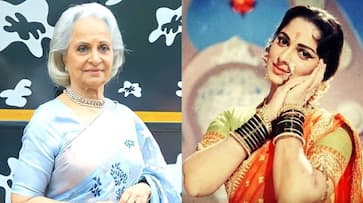 Renowned veteran actor Waheeda Rehman, celebrated for her iconic performances in Guru Dutt's classic films, has been bestowed with the prestigious Dadasaheb Phalke Lifetime Achievement Award. The announcement was made by the Minister of Information and Broadcasting, Anurag Thakur, who took to the platform X (formerly known as Twitter) to laud her remarkable contributions to Indian cinema, acknowledging her past accomplishments. Thakur also commended the actress for embodying "dedication, commitment, and the strength of a Bharatiya Nari"
In his tweet, Thakur expressed his joy and honor, stating, "I feel an immense sense of happiness and honor in announcing that Waheeda Rehman ji is being bestowed with the prestigious Dadasaheb Phalke Lifetime Achievement Award this year for her stellar contribution to Indian Cinema." He then highlighted some of her most notable roles, including films like "Pyaasa," "Kaagaz ke Phool," "Chaudhavi Ka Chand," "Saheb Biwi Aur Ghulam," "Guide," "Khamoshi," and numerous others.
Thakur continued to praise Waheeda Rehman's illustrious career spanning over five decades, during which she portrayed her roles with exceptional finesse. He mentioned her National Film Award-winning performance as a clanswoman in "Reshma and Shera." Waheeda Rehman has also been honored with the Padma Shri and Padma Bhushan awards, reflecting her dedication, commitment, and the ability of a Bharatiya Nari to attain the highest levels of professional excellence through hard work.
Concluding his announcement, Thakur stated, "At a time when the historic Nari Shakti Vandan Adhiniyam has been passed by Parliament, her being awarded with this lifetime achievement award is a fitting tribute to one of the leading ladies of Indian Cinema and one who has dedicated her life after films to philanthropy and the greater good of society. I congratulate her and humbly pay my regards to her rich body of work that is an intrinsic part of our film history."
In the previous year, the Dadasaheb Phalke Award was conferred upon veteran Bollywood star Asha Parekh in recognition of her exceptional lifelong contributions to Indian Cinema. Other notable recipients of this prestigious award include luminaries such as Rajinikanth, Amitabh Bachchan, Gulzar, Pran, Prithviraj Kapoor, Manoj Kumar, Shashi Kapoor, Manna Dey, and Vinod Khanna (posthumously), among others.
Dadasaheb Phalke, often referred to as the 'Father of Indian Cinema,' made 27 short films and over 90 full-length movies during his nearly two-decade career as a filmmaker. More than two decades after his passing, the Indian government established the Dadasaheb Phalke Awards in 1969 to honor individuals for their significant contributions to the arts and cinema.
ALSO READ: Dev Anand: Zeenat Aman, Suraiya and other women in late actor's life
Last Updated Sep 26, 2023, 1:57 PM IST