Video: Swara Bhasker's baby shower with husband Fahad Ahmad and family
Swara Bhasker's husband Fahad Ahmad and their family friends surprised the actress by organising a baby shower for her! She shared glimpses from her baby shower ceremony; take a look at the inside pictures.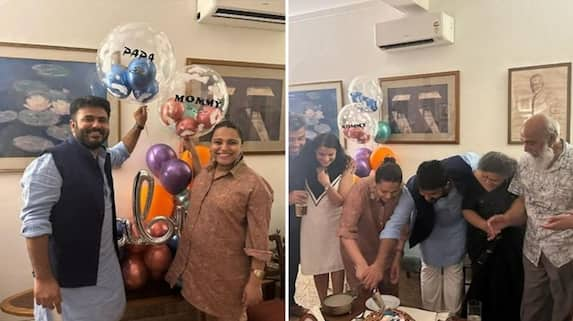 Bollywood actress Swara Bhasker announced in June that she was expecting her first child with husband Fahad Ahmad. She shared some lovely photos with Fahad, showing off her baby bump, and noted that the baby will arrive in October. Swara has already released some beautiful shots of herself from her pregnancy photoshoot. Swara was recently stunned by a baby shower ceremony by the actress' husband Fahad and their friends.  She showed snippets of her baby shower ceremony.
Swara Bhasker took to Instagram on Monday morning to post photographs and videos that give followers a sneak peak inside her baby shower.  The first video shows Swara's friends saying 'Surprise!' as she and Fahad enter the house.
Also Read: Bride-to-be Parineeti Chopra lashes out furiously at paps for taking her video
Swara had no clue her friends and family were organising a baby shower for her, and she was seen saying, "I am in pajamas." In the following picture, Swara is seen posing with a balloon that read 'Mommy to be', while Fahad held a 'Papa to be' balloon. The actress was seen in a brown printed co-ord set, while Fahad wore a blue kurta with a vest, and white pajamas. In another picture, Swara and Fahad are seen cutting the cake, while the actress's parents and friends clap for them.
Sharing the pictures, Swara Bhasker wrote, "I love surprises! Last week, one of my oldest friends @samar_narayen & the amazing @laks7 and Fahad gave me the sweetest surprise in the form a baby shower that they managed to plan and execute without me getting even a whiff of it! I was so clueless I arrived in pajamas! Ok not quite.. but I didn't catch on till I caught @kaushikmoitra & @priyatnabasu arriving outside & then too I was merely confused!"
Also Read: Does Alia Bhatt's car gets mobbed by group of women?
She further thanked her friends for planning and executing the baby shower for her. She added, "Heart is soooo full! This baby is so lucky to be surrounded by such loving and wonderful Masis and Mamus, and Nanas and Nanis Thank you all soooooo much! Lakshita and Samar you guys outdo yourselves every time! Feel so blessed! #babyshower #friendslikefamily."
Swara Bhasker married political activist Fahad Ahmad in February of this year. She uploaded photos from their court marriage, and while they filed their marriage in court on January 6, 2023, they also celebrated their wedding with friends and family in March.
Last Updated Sep 18, 2023, 9:23 AM IST