VIDEO: Is Rajinikanth selling tea in Kerala? Meet Sudhakar Prabhu, superstar's lookalike from Kochi
A viral video showcasing Sudhakar Prabhu, the hotel owner in Cochin who has become an overnight phenomenon due to his strong likeness to Superstar Rajinikanth, astonished internet fans. Check out the video below.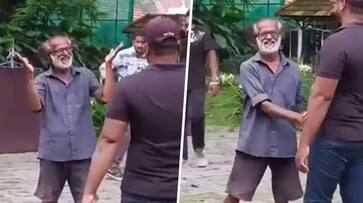 Sudhakar Prabhu, the proprietor of the Venkateswara Hotel in Kochi, Kerala, has become an online phenomenon overnight. Fans were taken aback when they saw his remarkable similarity to Superstar Rajinikanth. Sudhakar instinctively emulated the iconic actor's manner and appearance while selling tea at a booth in Kerala. His video has now gone viral across all social media channels.
Meet Sudhakar Prabhu, Rajinikanth's doppelganger
Sudhakar Prabhu, who sells teas at a stall in Kochi, left social media users in doubt due to his remarkable resemblance to Tamil Rajinikanth. Sudhakar is usually seen selling tea, serving his customers with a smile and a tagline that says, "What you get, you don't get... What you don't get, you never get." His striking likeness to Rajinikanth drew the attention of a film crew filming in Kochi. The team was astonished to discover someone who resembled Rajinikanth serving tea.
Also Read: Family Star: Vijay Devarakonda, Mrunal Thakur starrer to release on 2024
Watch the video here:
His movies got popular when they were uploaded on Facebook by a Malayalam filmmaker named Nadirsha. He has earned fame and been invited to several gatherings throughout Kerala.
Rajinikanth's next film, 'Thalaivar 170,' has begun production. He is now in Tirunelveli filming the film's next sequence.
Also Read: Chandrachur Singh terms Salman Khan 'liar', later deletes the comment (read)
In the clip shared by film analyst Ramesh Bala, it can be seen that Rajinikanth greeted his enthusiastic fans who had lined up just to catch a glimpse of the actor. They cheered for Thalaivar as well. On October 10, Rajinikanth and his team arrived in Tirunelveli for the second 'Thalaivar 170 schedule. The film is helmed by TJ Gnanavel of 'Jai Bhim' fame.
Last Updated Oct 24, 2023, 11:24 AM IST