Chandrachur Singh terms Salman Khan 'liar', later deletes the comment (Read)
A video has gone viral where Salman Khan claims that Chandrachur Singh rejected a role in Karan Johar's 'Kuch Kuch Hota Hai' despite not having work.
Seems like actor Chandrachur Singh has accused Salman Khan of lying after he stated that Chandrachur rejected 'Kuch Kuch Hota Hai' despite not having any films. A video went viral on the internet in which director Karan Johar admitted on his show 'Koffee With Karan' that he approached various stars for the second main part of the film 'Kuch Kuch Hota Hai'. He named a number of actors such as Saif Ali Khan and Chandrachur Singh. Salman, who was on the show as a guest, claimed that Chandrachur rejected the role despite not having work. As soon as Chandrachur came across the video, he expressed his disappointment in the comment section. 
The chat show's conversation
Salman said, "It was not difficult for you (Karan) to get a Shah Rukh Khan in the film, but it was very difficult for you to get this casting (Aman). Even though Chandrachur and Saif Ali Khan had no work, they, too, rejected the film. But I finished it, Karan. In you, I saw skill and genius. And you never worked with me again after that."
Chandrachur Singh's comment
According to a Reddit member, Chandrachur responded to Salman's assertions in the video. They uploaded a screenshot of Chandrachur's alleged statements, in which he was seen calling Salman a liar. "Jhoot Salman Ka," the comment stated. When a fan inquired about the falsehood, the actor stated that he was not unemployed as Salman claimed. "Mere paas 'Josh', 'Daag The Fire', 'Kya Kehna', 'Silsila Hai Pyaar Ka', and so forth." "I made a decision." However, Chandrachur quickly deleted his comment.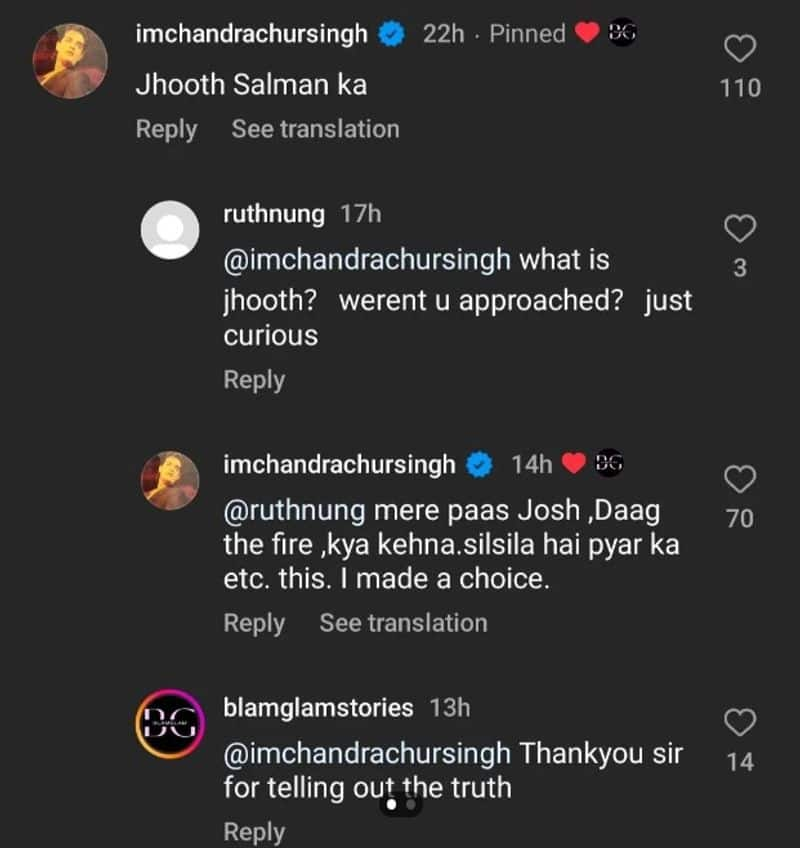 The film 'Kuch Kuch Hota Hai' went on to become one of the biggest blockbusters of 1998, and fans still adore Salman Khan's role as Aman. This year marked the 25th anniversary of the film, and Karan Johar arranged a special fan screening.
Last Updated Oct 24, 2023, 11:09 AM IST