Tiger 3: Katrina Kaif shares glimpses from training sessions with BTS photo of famous 'Towel' scene - Watch
Katrina Kaif shares her intense training journey for "Tiger 3" with behind-the-scenes videos and insights, including her determination to push her limits and create an alter ego. Fans await the action-packed release.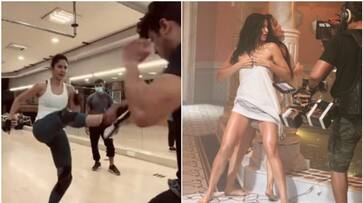 Katrina Kaif is getting ready for the release of her new movie called "Tiger 3" with Salman Khan. This is the third movie in the series, where Katrina and Salman are playing their roles as Zoya and Tiger. They are going to fight against the antagonist played by Emraan Hashmi in the movie.
When the trailer of the movie was shown to the fans, they loved Katrina's action scenes. One scene that stood out was when she fought with another woman while wearing a towel.
ALSO READ: Tiger 3: Katrina Kaif claims that it took 60 day action prep for Zoya; underwent rigorous training
Recently, Katrina talked about how she trained for the movie and shared some behind-the-scenes videos on her Instagram. She posted a picture from the famous towel scene, where she's holding onto the towel and standing next to another actress, leaning against a pillar. Katrina also shared several videos where she's seen practicing for her action scenes. In these videos, she's doing high kicks and intense workouts. There's even a video where she's getting treated for what looks like an injury.
Accompanying the post, Katrina penned a long caption - "For me, when tiger time comes, it's about pushing my limits, testing my endurance, and finding that strength within. Someone once told me, "Pain is just another sensation" ….Don't be afraid of it ,don't run from the pain. Many days, I was so tired; it felt different this time…tougher. My body was sore, but I would tell myself to take it as a challenge and see how much I could face today.
Stating further about how she had to create an alter ego to bear the hard training sessions she wrote "During training, we created an alter ego. So even if I was tired, SHE wasn't tired; she was going to war!….your mind will stop you much before your body does.
Once you decide, commit and do it… no matter what! And the work is ALWAYS worth it. I think we were able to deliver even more dynamic action than before, and that's always our intention…… To be better……. Now waiting to share #Tiger3 with the world ….. nervous, excited …Just a few more days to go🤍"
Maneesh Sharma directorial "Tiger 3" is the fifth installment of Aditya Chopra's "YRF Spy Universe", which is a film universe involving movies that feature characters playing intelligence agents. It is slated for November 12 release.
ALSO READ: Salman Khan, Katrina Kaif's film sold over 44,000 tickets on its opening day; reports
Last Updated Nov 6, 2023, 1:50 PM IST