Tiger 3: Katrina Kaif claims that it took 60 day action prep for Zoya; underwent rigorous training
Katrina Kaif's Zoya in Tiger 3 showcases empowering female spy action, breaking new ground with intense stunts and dedication, all revealed by the actress herself.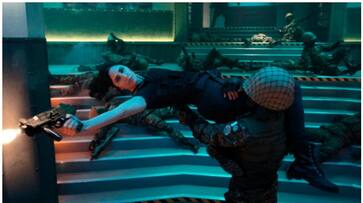 Katrina Kaif, who plays the character Zoya in the Tiger film series, is the first female spy in the YRF Spy Universe. Zoya is portrayed as a strong, smart, and ruthless spy who can hold her own in action scenes just like any male spy.
Katrina has taken this role to heart and in each Tiger movie, her character Zoya has been given more challenging action sequences. For the upcoming Tiger 3, Katrina has trained for about 60 days to perform even more daring stunts and action scenes.
In her own words, Katrina believes that Zoya's character shows that women are capable of doing anything when it comes to protecting their family, nation, or humanity. Zoya is a character who can be both nurturing and a fierce protector. Katrina considers Zoya one of the most important roles in her career.
Katrina appreciates how Zoya can match anyone with her determination and courage, "I love how she can match anyone with her grit and courage. She doesn't back down from a fight and she can be as good as if not better than a man when it comes to doing action! Zoya's style of action is also unique, and she can pull off some very complicated action sequences with ease like the one you see a sneak peek of in the trailer! Zoya is pitted against an army of enemies, and she fights all by herself!"
What excites Katrina the most is how the makers at YRF have made Zoya's character stronger with each film in the Tiger series. She adds, "I love action as a genre and playing a spy is a dream come true! I knew that this was going to be a part of my legacy, so I always give my 200 percent for this franchise. Every Tiger film has taken Zoya's character a notch above, and she has fought harder, and it has been bloodier. That's the USP of the character, which I love!"
For Tiger 3, Katrina prepared for about two months to make Zoya look agile, faster, and stronger. She went through rigorous training, and she believes that the action sequences in this film might be something new and daring for a female character. Katrina remarked, "Executed by some of the best action teams in the world, I'm super excited for audiences to see these sequences on the big screen."
Tiger 3, produced by Aditya Chopra and directed by Maneesh Sharma, is set to release on Diwali, November 12th, and it stars Salman Khan alongside Katrina in their iconic roles as super agents Tiger and Zoya.
ALSO READ: 'The Lady Killer' trailer: Bhumi Pednekar, Arjun Kapoor unite for murder thriller; movie release on this date
Last Updated Oct 30, 2023, 4:05 PM IST