'The Buckingham Murders': Kareena Kapoor Khan's film poster looks intense; read on
Here comes the gritty and hard-hitting first official poster of Hansal Mehta's 'The Buckingham Murders' featuring Kareena Kapoor Khan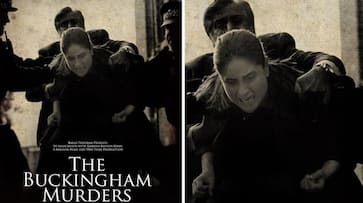 At the BFI London Film Festival 2023, Hansal Mehta's directorial 'The Buckingham Murders' garnered a standing ovation from the crowd. As the film's great global success left the fans wanting more, the directors quickly published the first official poster, which featured the first glimpse of its star, Kareena Kapoor Khan, looking simply stunning!
The first official look poster for 'The Buckingham Murders,' which looks utterly brutal and riveting, has heightened anticipation for the film. With Kareena Kapoor Khan on the poster captured by two cops, it would be a totally different experience to see the actress play the roles of a detective and a mother. While Kareena appears to be in great shape, the film appears to be bringing a gripping plot of worldwide calibre! An amazing news will be made shortly, since the poster has raised the level of anticipation. 
During the weekend, Kareena took to Instagram and shared a glimpse into the world of Hansal Mehta's film. Bebo dropped a string of pictures from the film and wrote, "Jas Bhamra. Jas was a character I have been waiting to play for the last 23 years, being a huge fan of the detective series genre… watching everything from Karamchand to Helen Mirren in Prime Suspect to Hercule Poirot in Agatha Christie to Kate Winslet in Mare of Easttown, I was just dying to be that detective woman."
She added, "On a 25-page synopsis given to me by Hansal and Ekta, I started reading it at 1 a.m., and I knew I had found the woman I wanted to be..Ekta, Hansal and I set off on this journey to make a slightly unconventional film, but a film that is with heart, a bit of a smile, and, oh my god, lots of tears… It played at the British Film Institute last night, and as this film starts its journey… in the world of movies… I couldn't be more nervous and excited as an actor and a first-time producer… I feel so odd writing that… but I feel really cool…"
About The Buckingham Murders:
Kareena Kapoor Khan, Ash Tandon, Ranveer Brar, and Keith Allen lead an amazing ensemble cast. Hansal Mehta directed the film, which was written by Aseem Arrora, Kashyap Kapoor, and Raghav Raj Kakker. Balaji Telefilms and TBM Films co-produced the film, which stars Shobha Kapoor, Ektaa R Kapoor, and Kareena Kapoor Khan.
Last Updated Oct 17, 2023, 12:30 PM IST