Thangalaan teaser OUT: Chiyaan Vikram, Pa Ranjith starrer promises action packed thriller [WATCH]
The teaser for "Thangalaan," directed by Pa Ranjith and starring Chiyaan Vikram, offers a glimpse of the Kolar Gold Fields setting and intriguing characters, with the film's true plot shrouded in mystery. Chiyaan Vikram has other projects in the pipeline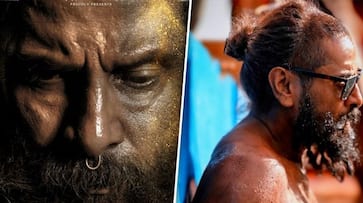 The teaser for Vikram and Ranjith's upcoming film "Thangalaan" offers a glimpse into the action and narrative of the movie. Directed by Pa Ranjith, who previously directed "Natchathiram Nagargiradhu," this period action flick is set in the backdrop of the Kolar Gold Fields (KGF). The film features Chiyaan Vikram in the leading role and an ensemble cast that includes Malavika Mohanan, Parvathy Thiruvothu, Pasupathy, and more. "Thangalaan" is scheduled to hit theaters on January 26th, 2024, coinciding with Republic Day.
The teaser, running for 1 minute and 32 seconds, provides a glimpse of the Kolar Gold Fields setting and the tribal society living near it. Chiyaan Vikram sports a distinct look with dirty, rough, and long hair and a protruding belly, a departure from his usual appearance. The teaser also features Parvathy Thiruvothu and Pasupathy as members of the same tribal community.
ALSO READ: Annapoorani teaser out: Nayanthara- starrer is mix of food, fun and emotions, to release on THIS date
Additionally, the teaser briefly introduces Malavika Mohanan's character, which is intriguing. She is shown screaming loudly, with the sound waves becoming visible, reminiscent of characters with sonic scream superpowers like Marvel's Banshee and DC's Black Canary.
The true nature of the film's plot remains a well-kept secret, and further details are yet to be revealed. The film is set to release in January, and until then, audiences can only speculate about its storyline.
ALSO READ: Ranveer Singh calls Nita Ambani 'So beautiful, so elegant, just looking like a wow', watch her react
"Thangalaan," directed by Pa Ranjith, is co-written by Ranjith and Tamil Prabha. The film's music is composed by G V Prakash Kumar, cinematography by A Kishor Kumar, and editing by Selva R K.
ALSO READ: Bigg Boss 17: Ankita Lokhande discloses reality of 'marriage' with Vicky Jain; Here's what she said
In addition to "Thangalaan," Chiyaan Vikram is also gearing up for the theatrical release of "Dhruva Natchathiram," a spy thriller film that has been in production for several years. He has also announced that director SU Arun Kumar, known for "Chithha," will be directing his 62nd film.
Last Updated Nov 1, 2023, 3:32 PM IST