Tejas REVIEW: Kangana Ranaut's film receives standing ovation; fans call it masterpiece
Tejas Early Review: Kangana Ranaut starrer Tejas is among the anticipated flicks of the year. Fans called the film a masterpiece and Kangana's performance outstanding.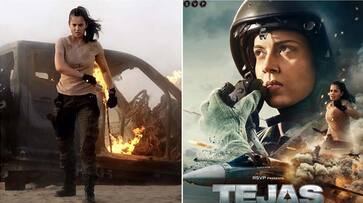 As Kangana Ranaut's highly awaited film, Tejas prepares for its theatrical premiere on October 27; fans are already praising the film. The film, which stars Kangana as the courageous Tejas Gill, has received much attention. Viewers who attended an early showing of the film gave it excellent feedback.
Sarvesh Mewara's Tejas takes the audience on an adrenaline-fueled trip through the life of Tejas Gill, an Indian Air Force (IAF) officer dedicated to preserving the nation at any costs. Notably, the film represents India's first foray into the arena of air action, displaying the capability of Tejas, India's homegrown fighter plane. 
Kangana Ranaut's Tejas first review 
As we eagerly anticipate the film's official release, look at the early reactions that have started to pour in on social media platforms. A social media user wrote on X (previously Twitter) and wrote, "
Also Read: Arab-Israeli actress Maisa Abdel Hadi arrested in Israel for pro-Palestine social-media post; Read
FIRST REVIEW OUT #Tejas is a masterpiece. It depicts the pride and valour of the armed forces in a beautiful manner. The dialogues are hard hitting and the action and vfx are very good. #KanganaRanaut is outstanding. Take a bow #sarveshmewara #ronniescrewala @KanganaTeam." 
Check out some more reactions below
Tejas has pleased the Indian ministry's dignitaries. The film gained immense affection and support from the soldiers during a special screening of the action entertainment organised by the crew for the Indian Armed Forces. While it was a joyful occasion for Team Tejas, an even more proud moment happened when the military forces and defence veterans gave the film a standing ovation. 
Kangana was joined at the screening by the relatives and friends of the armed services and other dignitaries. Furthermore, Kangana and director Sarvesh Mewara, as well as Vice Admiral of the Indian Navy DK Tripathi and his wife, were photographed in the same frame during the screening. 
Also Read: 'Leo' box office collection worldwide day 6: Vijay's film still rocks
Furthermore, at the screening of Tejas for Defence Minister Rajnath Singh and other guests from the Indian Air Force, Chief of Defence Staff General Anil Chauhan presented the filmmaker Sarvesh Mewara with his brooch as a souvenir. 
About Tejas:
Tejas, produced by RSVP, stars Kangana Ranaut in the title role. The film, written and directed by Sarvesh Mewara and produced by Ronnie Screwvala, is set to be released in theatres on October 27, 2023. The movie boasts an ensemble cast, including Mirko Quaini, Rohed Khan, and Anuj Khurana in pivotal roles.
Last Updated Oct 25, 2023, 11:28 AM IST