Tejas: Kangana Ranaut meets Israel ambassador Naor Gilon; says, "We as Hindu nation stand with Israel's cause"
Tejas movie star Kangana Ranaut visits Israel embassy to meet ambassador Naor Gilon ahead of her film's release. The movie is all set to release in october 27.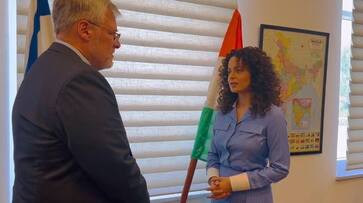 As the release date of the film "Tejas" approaches, Kangana Ranaut is leaving no stone unturned in her efforts to carry the spirit of the nation's valor across the country. She is all set to bring this remarkable courage and bravery to the big screen through her portrayal of Tejas Gill. Kangana Ranaut's commitment to this cause is evident as she tirelessly promotes the film on various platforms, ranging from television shows to engaging with the Ministry Of Bharat. Her recent visit to the Israel embassy showcases her unwavering dedication to this endeavor.
In a notable and courageous move, Kangana Ranaut, who is deeply immersed in the essence of the film, took the initiative to meet with Naor Gilon, the Israel ambassador to Bharat. This meeting is particularly significant given the challenging circumstances that Israel is currently facing. Kangana's decision to extend her support to the nation and foster stronger bilateral relations between both countries is commendable and reinforces her commitment to the themes of courage and strength that "Tejas" aims to portray. Kangana Ranaut took to her social media platforms and posted a video capturing her recent encounter with Naor Gilon. In addition to sharing the video, she also penned a caption saying - "My heart goes out to Israel. Our hearts are bleeding too. Here's my conversation with Israel's ambassador to Bharat Naor Gilon. @IsraelinIndia"
"Tejas," featuring Kangana Ranaut in the titular role, is a production by RSVP. The film, both written and directed by Sarvesh Mewara, is being produced under the guidance of Ronnie Screwvala. Mark your calendars, as this highly anticipated film is set to grace the silver screens nationwide on October 27th, 2023.
ALSO READ: 'UT 69': Raj Kundra gets candid on wife Shilpa Shetty's suggestion; talks about his 'bad phase'
Last Updated Oct 25, 2023, 2:36 PM IST