'UT 69': Raj Kundra gets candid on wife Shilpa Shetty's suggestion; talks about his 'bad phase'
Raj Kundra, the husband of Sukhee star and bollywood actress Shilpa Shetty, is all set for the release of his upcoming film UT 69. The movie will depict the challenging experiences of Raj Kundra during his testing time in Arthur Road Jail in India.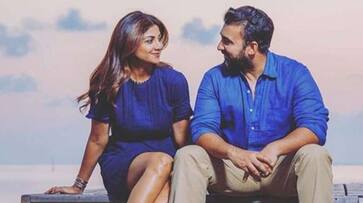 Ahead of his upcoming film UT 69 release, businessman-turned-actor Raj Kundra made a huge reveal and disclosed that his wife and bollywood diva Shilpa Shetty had proposed the idea of settling abroad when he was in Arthur jail. For the unversed, Raj Kundra was arrested in July 2021 concerning a case related to the creation and distribution of pornographic videos. He was taken into custody by law enforcement authorities for further investigation. The case garnered significant media attention and public scrutiny and had various legal and social implications.
ALSO READ: Rajinikanth poses with Amitabh Bachchan from Thalaivar 170 sets, says "Working with my mentor after 33 years"
Speaking to a leading Indian entertainment publication, Kundra said, "My wife was actually the first person to say, Do you want to live abroad, Raj? You left everything in London. You were born and brought up there. You moved here because I wanted to be here. But if you want, I can make things work and let us leave the country. Let us go abroad. I told her that I loved India and would not leave. Log bade bade kaand kar ke, hazarao crore kamake desh se nikal jaata hai (people do big crimes, take thousands of crores and leave the country), but I have done nothing so I would not leave the country."
Narrating his ordeal further, Raj said that there was so much humiliation and reputational damage. Talking about the same, Raj shares, "Because of me, the media went behind my wife, children and parents. That was painful. I knew what was going on outside."
With UT 69, Raj Kundra is donning the hat of being an actor. He is embarking on a cinematic journey that delves into his life and the controversies surrounding him. The official announcement of this project was made through a humorous video clip which featured Farah Khan and comedian-rapper Munawar Faruqui. This forthcoming film, UT 69, is slated for release on November 3, promising to provide an intriguing glimpse into the life of Raj Kundra and the associated controversies.
ALSO READ: Shraddha Kapoor's Dussehra delight: Red Lamborghini Huracan Tecnica joins her fleet [WATCH]
Last Updated Oct 25, 2023, 2:07 PM IST