'Tejas' box office report Day 2: Kangana Ranaut's film fails to impress; actress urges to watch her movie
'Tejas' was out in theatres on October 27. In two days, Kangana Ranaut's film is yet to pick up pace. The film collected Rs 1.25 crore on Day 2. On Saturday (Oct 28) evening, Kangana shared a video message for her fans, inviting them to the theatres to watch Tejas.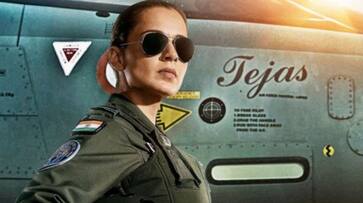 Kangana Ranaut is back on the big screen with 'Tejas,' in which she plays Tejas Gill, an air force officer. The picture was released on October 27, and as the Day 2 box office results show, it is battling to gather momentum. According to early estimates given by Sacnilk.com, the film grossed 1.25 crore on day two, which was identical to its opening day total. After two days of release, the airborne action picture has earned 2.5 crore. The film has shown no growth on Day 2 as well. The film collected Rs 1.25 crore on Day 2. It is the same number as Day 1. The total collection now stands at Rs 2.5 crore.
The fact that Saturday is a holiday for many people and yet the film shows no development is troubling. On Sunday, October 29, it is hoped that it would gather traction.
Kangana had taken to social media to urge the audiences to watch 'Tejas' in theatres and not wait for its OTT release. She shared a video with the caption, "Even before Covid, theatrical footfalls were dipping drastically post covid it has become seriously rapid. Many theatres are shutting down and even after free tickets and many reasonable offers drastic footfall decline is continuing. Requesting people to watch films in theatres and enjoy with family and friends or else they (theatres) won't be able to survive. Thanks (sic)."
About Tejas: 
Sarvesh Mewara directed the film Tejas. It follows the incredible voyage of Tejas Gill, an Air Force pilot who embarks on a perilous rescue mission. The video is supposed to inspire and build a profound feeling of pride in every Indian by demonstrating how Indian Air Force pilots fight relentlessly to defend our country while facing several obstacles.
Anshul Chauhan, Varun Mitra, Ashish Vidyarthi, Vishak Nair, Kashyap Shangari, Sunit Tandon, Rio Kapadia, Mohan Agashe, and Mushtaq Kak also appear in Tejas. Music for the film was composed by Shashwat Sachdev.
Last Updated Oct 29, 2023, 10:13 AM IST