Tamannaah Bhatia creates record; becomes only Indian ambassador for iconic Japanese Brand SHISEIDO
Renowned for pioneering innovative skincare and makeup, SHISEIDO, a leading Japanese brand, has appointed popular actress Tamannaah Bhatia as its first Indian Ambassador.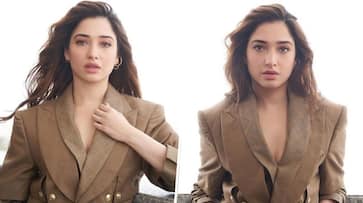 Acclaimed actress Tamannaah Bhatia has achieved the prestigious distinction of becoming the inaugural Indian Ambassador for the renowned Japanese beauty and cosmetics giant, SHISEIDO. This announcement marks a momentous occasion in the realms of beauty and the entertainment industry.
Tamannaah's association with the esteemed SHISEIDO brand stands as a resounding testament to her unparalleled sense of style, enduring beauty, and unwavering dedication to the pursuit of excellence. Her remarkable ability to consistently captivate audiences with her multifaceted acting prowess and radiant on-screen presence renders her an ideal choice for representing a venerable brand like SHISEIDO.
In response to this groundbreaking partnership, Tamannaah expressed her boundless excitement, articulating, "I am absolutely thrilled to be associated with SHISEIDO, a brand that has consistently set the standard for excellence in beauty for over a century. SHISEIDO's commitment to innovation, quality, and celebrating individuality resonates with me on a personal level. I believe that beauty is not just about external appearance, but also about feeling confident and empowered in your own skin."  
The collaboration between Tamannaah Bhatia and SHISEIDO holds profound significance in the captivating intersection of beauty and entertainment, serving as a powerful testament to SHISEIDO's enduring dedication to forging connections with the diverse and dynamic Indian market. Simultaneously, it pays homage to Tamannaah's extraordinary talent, timeless allure, and her profound influence over an ardent fan base spread across the nation.
Assuming the role of SHISEIDO's inaugural Indian Ambassador, Tamannaah is poised to inspire and empower countless individuals, nurturing their journey to embrace and celebrate their unique beauty, allowing them to express themselves through the artistic realms of makeup and skincare. The industry eagerly anticipates the unfoldment of this compelling partnership between Tamannaah Bhatia and SHISEIDO, with soaring expectations for the remarkable contributions she is poised to bestow upon the brand and the broader landscape of the beauty sector.
ALSO READ: Israel-Hamas war: Justin Bieber, Dwayne Johnson share strong notes and slam 'brutal murders'
Last Updated Oct 11, 2023, 2:24 PM IST