Israel-Hamas war: Justin Bieber, Dwayne Johnson share strong notes and slam 'brutal murders'
Hollywood celebrities criticise the Israel-Hamas conflict, which has claimed many lives. Dwayne Johnson and Justin Bieber expressed their support for Israel

Israel is going through a difficult time, and many Hollywood celebrities support them. On Saturday, October 7, Hamas militants carried out the bloodiest attack in Israeli history, rampaging across Israeli cities, killing over 1,000 people and carrying dozens of captives to Gaza. Israel replied with air attacks in Gaza, razing entire neighbourhoods.
As the battle approaches its fifth day, Hollywood icons like as Dwayne Johnson and Justin Bieber have expressed their support for Israel. Dwayne Johnson, dubbed The Rock, issued a lengthy statement on Instagram condemning and denouncing terrorism. Singer Justin Bieber also issued a statement in which he stated that he is "not interested in picking sides" and that he is "hurting for both his Israeli and Palestinian friends."
Hollywood stars, including Dwayne Johnson and Justin Bieber, have now extended support to Israel as the war enters its fifth day. Dwayne Johnson, aka The Rock, posted a long note on Instagram wherein he 'condemned and denounced terrorism'. Singer Justin Bieber also wrote a note saying that he is'not interested in choosing sides' and was 'hurting for both his Israeli and Palestinian friends'.
Hamas launched the biggest attack on Israel in years from the Gaza Strip, with a surprise assault combining gunmen crossing the border with a heavy barrage of rockets. Islamic Jihad says its fighters have joined the attack.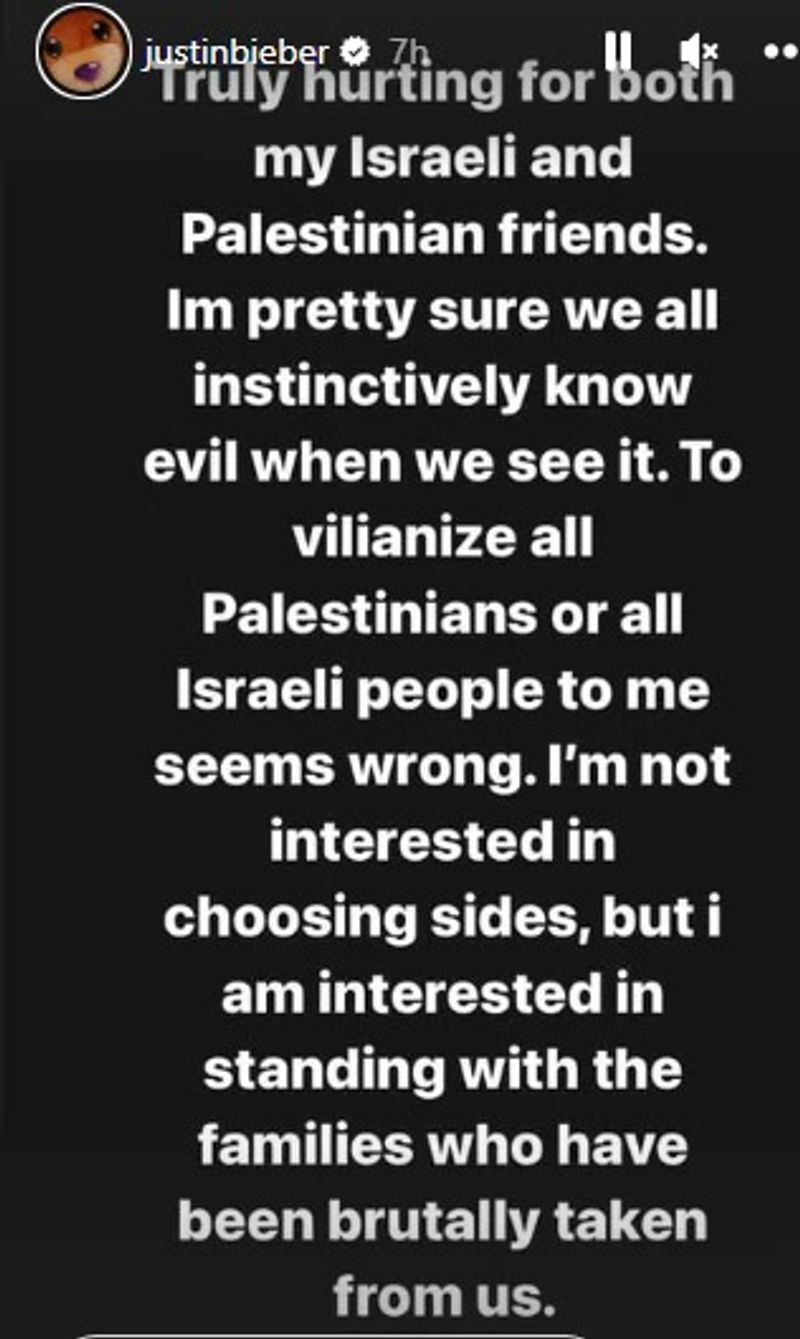 Dwayne Johnson wrote, "I'm heartbroken, angry, and sickened by the brutal murders and kidnapping of Jewish people through the horrific acts of the Hamas terrorist group. The growing loss of innocent Israeli and Palestinian lives is heart wrenching as this war escalates to immense proportions. I don't pretend to know everything about the complex conflict in the Middle East. It commands deep understanding, context, and nuance – what I do know is hateful acts of terrorism like these are never justified. I condemn and denounce terrorism, and in this devastating moment, my heart goes out to all the innocent victims and families grieving for their lost loved ones. I pray for compassion and resolve. I pray for all innocent lives (sic)."
The singer also shared his Instagram stories about the ongoing conflict. He wrote, "Truly hurting for both my Israeli and Palestinian friends. I'm pretty sure we all instinctively know evil when we see it. To villainise all Palestinians or all Israeli people to me seems wrong. I'm not interested in choosing sides, but I am interested in standing with the families, who have been brutally taken from us (sic)."
About Israel-Hamas war
On Saturday morning, October 7, Israel was subjected to an unexpected and unprecedented onslaught by Hamas, the organisation that administers the Gaza Strip, through air, land, and water. Following Hamas's launch of 5,000 missiles into Israel, Israel declared war on the terror organisation. Over 1,100 individuals have been murdered on both sides in the three-day fighting, with more than 700 slain in Israel, including 44 IDF.
Israel started a counteroffensive on Hamas hideouts in the Gaza Strip on Saturday. On Sunday, the nation continued to conduct out assaults in the region, while some Hamas infiltrators engaged in gunfights with Israeli soldiers in southern Israel. An escalation on Israel's northern border with Lebanon was reported, but the situation appeared to have cooled down.
Last Updated Oct 11, 2023, 2:09 PM IST