Spider-Man 3: Marvel Studio's Kevin Feige says 'Keep expectations low'
It cannot be denied that fans are eagerly waiting for the third part of the Spider-Man series to see actors Tobey Maguire and Andrew Garfield reunite on the reel. However, Marvel Studio's president, Kevin Feige, has something less to say to the superhero film's fanbase.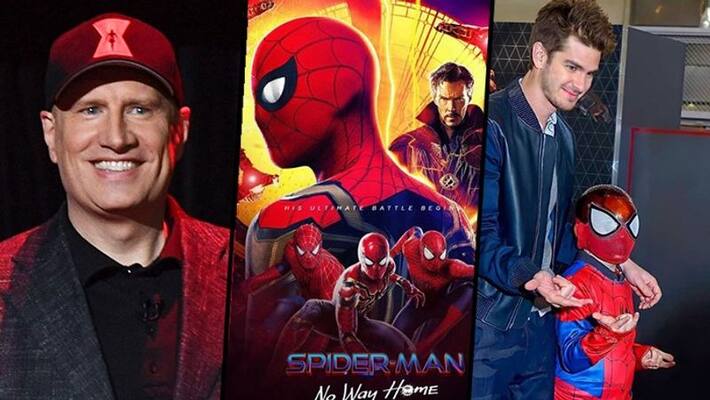 While the fans of the Spider-Man series are eagerly waiting for its next part to hit the theatres soon, the makers have rather warned the audience of not having high expectations. Rumour has it that both, actors Tobey Maguire and Andrew Garfield are expected to return to the Spider-Man franchise, in the upcoming film – Spider-Man: No Way Home.
ALSO READ: Do you know Tom Cruise was considered for Iron Man instead of Robert Downey Jr? Read this
 
However, with the gossip that is doing rounds regarding the 'big return', Marvel Studio's President Kevin Feige has asked fans to not get their hopes high. Reacting to the news that Maguire and Garfield will be making a comeback with the franchisee's latest part as the superhero, Feige has politely asked the fans to not expect much in order to avoid any disappointment.
ALSO READ: Shang-Chi and the Legend of the Ten Rings: Here's the first look at Marvel's first Asian superhero
Calling out the positives and negatives of a rumour, Feige told a magazine that 'rumours can be partially true and partially false'. He said that it is dangerous when fans build high expectations regarding a film which may lead to their disappointment when they don't get what they want.
ALSO READ: Good news for all Marvel fans: Farhan Akhtar all set to shoot for International project of Marvel Studios
The film will feature Tom Holland as Spider-Man or Peter Parker. However, Garfield has put the rumours of his return to the film to rest. Garfield (38) said that he understands the excitement of fans behind such movies, scenes and moments as a fan himself. However, he went on record to say that he is not a part of the project.
ALSO READ: Marvel Cinematic Universe to introduce first transgender superhero soon
The Amazing Spider-Man 1 and 2 actor also said that the audience will either be 'disappointed or excited' for what the film has to offer. Spider-Man – No Way Home is expected to release by the end of this year. The film's special teaser trailer was earlier released in the month of August. It is directed by Jon Watts.
Last Updated Nov 1, 2021, 5:09 PM IST