Sex Education Season 4 trailer: Witness Otis and Maeve's love story blooming in this poignant series
The final season of the comedy-drama led by Asa Butterfield, Ncuti Gatwa and Emma Mackey will stream on Netflix from September 21 onwards. All your favourite characters are going high on emotions and drama, with a rollercoaster of stories throughout the trailer glimpse.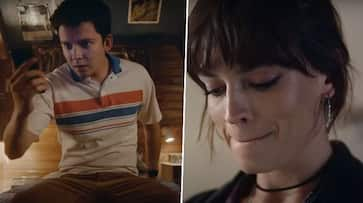 Netflix has dropped the trailer for the highly-anticipated fourth and final season of the beloved comedy-drama Sex Education. The two-minute-23-second video trailer offers a good glimpse into the explosive final instalment of the show, promising a rollercoaster of drama, love, emotions, and compelling performances with a dose of dank and witty humour and growth for our favourite characters.
ALSO READ: Sonakshi Sinha buys swanky sea-facing apartment worth Rs 11 crore in Mumbai
Netflix has released a new trailer for the final season of Sex Education, teasing the end of the road for the characters introduced at the beginning of 2019. Asa Butterfield returns as Otis Milburn, the high school boy who used to be a sex therapist for his classmates until he realized that his lack of experience and training left him in an uncomfortable position where it was not okay to get too involved in other people's lives. The final instalment gets him totally invested in the relationship he always wanted, but he might not be ready for everything that implicates him.
After years of being unable to get together, Otis and Maeve (Emma Mackey) have finally become a couple, in an event that the screenwriters have teased since the first season of the series was released almost five years ago. But as the new trailer can tell, Otis isn't ready to send intimate pictures to her, making him feel insecure about how he is so private with the person he's been in love with for so long. And since drama seems to be recurring for the students of Moordale High, Otis and Maeve won't be the only ones stuck in complicated situations when the final season premieres later this month.
You can check out the new trailer for the final season of Sex Education below, before the series returns on September 21:
ALSO READ: Kangana Ranaut reacts to PM Modi-Biden's old toast video, where US President is mocking India's PM (Watch)
Last Updated Sep 13, 2023, 4:38 PM IST