Kangana Ranaut reacts to PM Modi-Biden's old toast video, where US President is mocking India's PM (Watch)
Bollywood actress Kangana Ranaut recently reacted to the trolled of the old viral video from Prime Minister Narendra Modi's US visit. The video showed US President Joe Biden mocking PM Modi over how to raise a toast.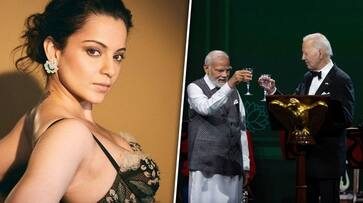 Kangana Ranaut went to X (previously Twitter) on Tuesday to support Prime Minister Narendra Modi and chastise individuals 'humiliating him for not understanding how to hold a peg while toasting'. The actor backed PM Modi after some on X said that PM Modi laughed without comprehending what the US President was saying during their last meeting. Kangana Ranaut recently responded to criticism of an old viral video of Prime Minister Narendra Modi during his June trip to the United States. The footage comes from PM Modi's visit to the United States, where he raised a glass to US President Joe Biden at the White House State Dinner.
The State Dinner toast was made in appreciation of PM Modi's visit. Peals of laughter erupted, though, when President Joe Biden suggested booze.
As Biden raised his glass to propose a toast, he reminded everyone of a 'custom': "When you give a toast and you don't have any alcohol in the glass, you must do it with your left hand. You all think I'm kidding. I'm not." Biden was hinting at how PM Modi does not drink alcohol, making him laugh at his remarks.
Kangana criticises those trolling PM Modi
She tweeted, "Kaisa kalyug manushya ke sar par naach raha hai jo ki pashuyo ke maas ya rakt ka ahar nahi karta, jo kabhi dhumrpan ya madira sevan nahi karta; aise bhale manush ko neecha dekhaya ja raha hai ki peg pakad kar hawa mein ghumana nahi aata (What kind of Kaliyuga is dancing on the head of a man, who does not have meat or blood of animals, who never smokes or consumes alcohol; such a good man is being humiliated that he does not know how to hold a peg and swing it in the air)."
She further wrote, "Alcohol is medically/clinically/scientifically proven in every way to be hundred percent damaging for human system. Kya Joe Biden zameen pe baith ke haath se khana kha sakta hai kya (Can Joe Biden eat food from his hand while sitting on the ground)? Why should our PM bother about things that are beneath his interests and standards?"
Video of PM Modi meeting Joe Biden
Kangana's tweet came after individuals on X uploaded a small video clip from an event in which they claimed PM Modi was laughing but didn't comprehend what US President Joe Biden was saying. Some have even said that Prime Minister Modi is frequently seen 'hysterically' laughing with international leaders because he can not understand what they are saying.
One of the tweets read, "Ever wondered why in most of Modi's pics with foreign leaders, Modi is laughing hysterically? This video explains the 'why'. Biden, while toasting, asked to raise the left hand instead of the right if there's no alcohol in the glass (It's actually a norm – an unwritten rule). Narendra Modi, of course, had no idea what Biden was proposing so he did what he does best. Acted as if he got the joke ( It was no joke ) and started laughing before Biden could even finish his sentence. Biden felt offended and said, "You think I'm kidding!!" And moved on. The whole branding of Modi's image might have costed millions but if there's no substance this is what it looks like."
Meanwhile, Kangana Ranaut is excited for the release of her forthcoming film, 'Chandramukhi 2' with Raghava Lawrence. On September 19, 'Chandramukhi 2' will be released in cinemas. Aside from that, she has 'Tejas' in the works, which will cast her as an Air Force pilot.
Last Updated Sep 13, 2023, 3:01 PM IST