Scam 2003: Sana Amin Sheikh spills beans about her OTT debut, prep and much more
In a recent conversational interview with Asianet Newsable, renowned Indian actor Sana Amin Sheikh has opened up on her character Nafeesa, the transition of decades within her character in the series Scam 2003, her big OTT debut and more.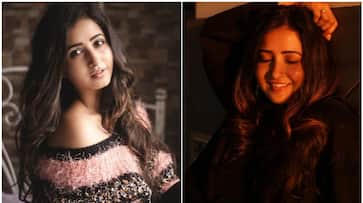 Sana Amin Sheikh is one of the finest television actors today in the tinsel town who needs no further introduction. She has wowed her fans and audiences with nuanced and brilliant performances in shows like Million Dollar Girl, Gustakh Dil and many more. Sana is also a well-known RJ who has interviewed many big A-lister celebrities. She has made her big OTT debut as an actor with Scam 2003, streaming digitally on Sony LIV. In a recent exclusive interview, Sana Amin Sheikh opened up on her experience working in OTT, her OTT debut, prep for her character and more.
ALSO READ: Pushpa 2: Did Fahadh Faasil demand Rs 8 crore for his role? Here's the truth
Opening up about her transitional journey as an actor, Sana said, "It has been very smooth. It has always been the other way round. I started off as a child actor. Then, I became an RJ when I was in college. Then I became a full-fledged actor. RJ-ing continued. But the transition and parallel thing has been very smooth. Now, in OTT, this is my debut with maverick filmmaker Hansal Mehta. I am honoured and privileged to have auditioned for this part. Getting to play it was on another level."
Opening up on her preparation to get under the skin of her character in the series, which is multi-layered, Sana said, "It was both challenging and exciting. For the prep, when I got told about the character, I was told what Nafeesa is, what part she plays in Abdul Telgi's life, and the storyline. It was amazing to listen. We did many reading sessions. When I went on set, it was more free-flowing. I remembered all my lines. When on set, the setting, lights, and ambience were unique. We have had a transition of decades in the series as my character also ages, so my costumes, co-actors reaction, all these things in a nutshell, summed up in my prep."
Opening up on her experience of Hansal Mehta directing the few intense scenes in the series, she said, "With Hansal sir, I have shot a few intense scenes. He has shot those scenes. The experience was so good. Be it an emotional, light-hearted or intense scene, it was honestly a joy ride. Everything is perfect when working with a genius like Hansal Mehta."
Opening up about the compelling part of her character, Sana said, "She is not a run-of-the-mill character like somebody who is the lead of the show, and you are just his wife who is there in the series. It is not like that. She brings in lots of layers to her character and a different side to the story of Abdul Karim Telgi, who does scam in the show. But whenever there is a vulnerable side to Telgi, a softer and family side to Abdul Telgi, you will see scenes about the family, i.e. Nafeesa and their daughter. In those moments, you see the humane side of this man who is a mastermind in such a big scam. Yet you will relate to him in these ways."
Scam 2003 is now streaming all episodes on Sony LIV.
ALSO READ: 'Bharat Mata ki Jai,' tweets Amitabh Bachchan as government likely to consider proposal to rename India
Last Updated Sep 5, 2023, 2:54 PM IST