Say no to drugs and narcotics: Bollywood actor Aamir Khan's advice to youngsters in Tamil Nadu
We get one life and it is a gift, so stay away from all kinds of drugs and addictive materials that can only harm your life. Bollywood actor Aamir Khan shared a piece of advice with youngsters in Tamil Nadu.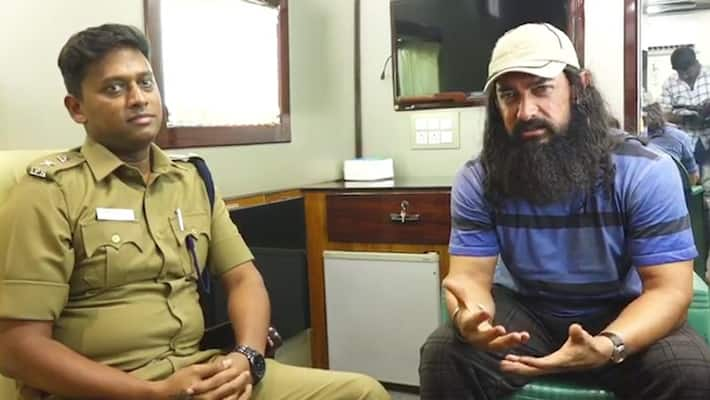 Ramanathapuram (Tamil Nadu): Bollywood actor and filmmaker Aamir Khan is known for being a perfectionist and the superstar had a message to deliver for the youngsters in the country.
Aamir Khan, who visited Danushkodi on Friday for the shoot of his upcoming 'Laal Singh Chaddha' – a comedy film, took the district police by pleasant surprise by obliging to shoot a brief anti-liquor campaign.
After shooting a running sequence scene on the Danushkodi road, the actor was almost packing up at the end of his day's schedule when superintendent of police V Varun Kumar, through his colleagues, approached his manager for a campaign video.
The bearded Aamir Khan readily agreed, taking the police by surprise. The actor said the district police helped him in the shoot and he would be too happy to oblige the police, the SP said quoting the actor.
In the video message, the actor advised the youth not to fall prey to liquor and other narcotic substances.
"Hello everyone, I'm here in Ramnad with your SP Varun. We were just talking, and he was telling me that one of the big issues they face here is excessive use of narcotics, drugs, contraband, things which youngsters are getting addicted to. As a result, they are wasting their life and harming their life," he said.
Appealing to the youth to stay away from drugs, he added, "My sincere appeal to you is to stay away from all kinds of drugs and addictive materials can only harm your life. We get one life It is a gift, live to the fullest and make your loved ones happy."
"
Youth should tread the path of righteousness and emerge as responsible citizens of the country, the actor said, when the SP expressed concern about the younger generation being misled and becoming addicted to liquor and other narcotics.
On the work front, the actor is currently involved in the production of Laal Singh Chaddha, the official remake of the 1994 American film Forrest Gump.
The coastal district has been plagued with smuggling of narcotics and contrabands for a long time now. The easy access to a seaport enables the trafficking of narcotics, especially to the neighbouring country of Sri Lanka.
Last Updated Dec 21, 2019, 11:48 AM IST