Sanchari Vijay officially declared brain dead, proceeding to retrieve organs for transplant: Health bulletin
The latest bulletin from Apollo Hospital that is treating National Award winning actor Sanchari Vijay confirms that his brain dead conditions is irreversible and the next step is to retrive his organs for transplant. Meanwhile a case against Vijay friend Naveen was filed for rash driving that allegedly led to accident and injured Vijay.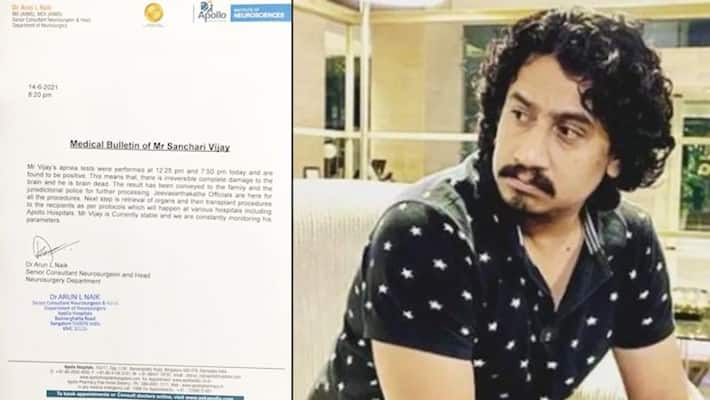 In a latest development in National Award winning actor Sanchari Vijay health condition, the actor' organs will be donated as per his family's wishes. 
As per the bulletin,"Mr Vijay's apnea test were performed at 12:25 pm and 7:50 pm today(June14) and are found to be positive. This means that, there is a irreversible complete damage to the brain and he is brain dead. The results have been conveyed to family and jurisdictional police for further processing. Jeevasarthakathe officials are here for all the procedures. Next step is retrieval of organs and transplant procedures to the recipients as per protocol which will happen at various hospitals including Apollo Hospitals. Mr Vijay is currently stable and we are constantly monitoring his parameters."
Meanwhile Vijay's brother Siddesh has filed a complaint with Jayangar Police alleging rash driving by Naveen, Vijay's friend, which led to the accident resulting in serious injuries to the actor who was a pillion rider. 
The police reportedly have filed an FIR and taken up a case of rash and dangerous driving. 
Siddesh has urged action into the incident. 
What did Vijay say in last few days?
The actor had taken a car on loan and had to pay an EMI of Rs 28,000. He reportedly told his brother Siddesh to sell the car, clear the loan and use the remaining money as Covid relief fund to help the poor in the surrounding. 
Deputy CM Ashwath Narayana, actor turned political leader Jaggesh and others visited the hospital and met the distressed family. Vijay, 38, was a bachelor and is survived by his brother Siddesh and his family in Bengaluru outskirts. 
He was an civil engineer by profession and was introduced to theatre by his friends which led his entry into films. His role as Vidya in 'Naanu Avanalla, Avalu' will be etched in people's mind as this won him national award in 2015.
Last Updated Jun 14, 2021, 10:00 PM IST