Samantha Ruth Prabhu in Venice: Kushi actress patiently lines up for gelato [Pictures]
Actress Samantha Ruth Prabhu Shares a Candid Moment, Waiting Patiently in a Venice Queue for Gelato, and Offers Wisdom: "Good things come to those who wait."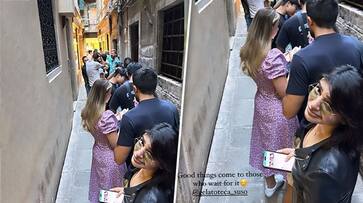 Samantha Ruth Prabhu, the adored actress has embarked on an adventure to fulfill her travel dreams. She is currently sharing her escapades from the enchanting city of Venice. Samantha, renowned not only for her amazing acting but also for her unwavering commitment to a vegan lifestyle, continues to serve as a source of inspiration for her fans, demonstrating her profound passion for varied cuisine, well-being, and physical fitness.
During her Italian sojourn, Samantha took to Instagram to unveil her latest discovery: Gelatoteca Suso, a delightful gelato haven in the heart of Venice. Her enthusiasm was palpable as she patiently queued up to savor this tantalizing treat, a moment she couldn't help but share in an Instagram story. Samantha playfully hinted at the anticipation of indulging in this sweet delight with a caption that resonated, "Good things come to those who wait."
Samantha's unwavering commitment to a vegan lifestyle has positioned her as an icon of inspiration. She firmly believes that eating cruelty-free food can seamlessly coexist with the pursuit of a healthy and fit life. Even during her travels,
Despite her temporary absence from the silver screen, Samantha's indelible mark on the Telugu film industry endures, particularly for her iconic role alongside Vijay Deverakonda in the timeless classic, "Kushi." Her loyal fanbase eagerly anticipates her upcoming venture, "Citadel India," a spin-off of the renowned American series bearing the same name.
Samantha Ruth Prabhu's sojourn to Venice extends beyond the mere exploration of picturesque locales; it is an exploration of global flavors. Her resolute commitment to a wholesome lifestyle, combined with her knack for discovering top-notch vegan eateries wherever she roams, continues to serve as a wellspring of motivation for her admirers. As Samantha embarks on her next adventure, both on and off the screen, her fans eagerly await her culinary discoveries and the enchanting gelato delights of Gelatoteca Suso in Venice.
ALSO READ: Fans speculate 'Salaar' is remake of 'Ugramm': True or False? FIND
Last Updated Oct 1, 2023, 5:16 PM IST