RHOBH Season 13 trailer OUT: Family gathering amid Kyle Richards, Mauricio Umansky infidelity rumours
In the Season 13 trailer of "The Real Housewives of Beverly Hills," Kyle Richards' marriage struggles take center stage, causing emotional turmoil. Denise Richards returns, tensions rise with Erika, and other Housewives face personal challenges, promising an intense and emotional season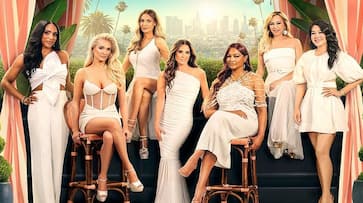 In the recently released trailer for Season 13 of "The Real Housewives of Beverly Hills," viewers are in for a season filled with drama and emotional moments, particularly for Kyle Richards.
The trailer immediately delves into the spotlight on Kyle's marriage troubles with her husband, Mauricio Umansky, following news of their separation earlier in the year. The entire cast reacts in real-time, with Garcelle Beauvais exclaiming, "Holy s--t," while Dorit Kemsley and her husband PK express their surprise, claiming they had "no idea" about the couple's issues.
The emotional footage shows Kyle in tears as she confides in Erika Jayne. She reveals that "complete strangers" have approached her, saying that her marriage made them "believe in true love." In response, Erika offers some tough love, reminding Kyle that "there are only two people in this marriage," and dismisses the opinions of others with a blunt, "Everybody else's opinion can f--k off."
As the trailer progresses, Kyle faces intense questioning from her fellow Housewives, suggesting that she may not even admit to infidelity if it were happening in her marriage. There's a moment where Mauricio snaps at his wife, and the trailer also introduces Morgan Wade as a new addition to the show.
In a lighthearted exchange, Mauricio jokes, "I'm just glad it's you out there having an affair," seemingly not taking the rumors of Kyle getting involved with Morgan seriously. Kyle retorts with a smirk, "For once it's me," wiping the smile off Mauricio's face.
Towards the end of the trailer, we see Kyle and Mauricio sitting down with their daughter in what appears to be a highly emotional family meeting. Kyle reassures her family, saying, "We are a very strong family, and we always will be. Always will be, there's nothing that can change that." The scene is deeply emotional as their daughters break down in tears.
The trailer also teases the return of Denise Richards and the tension she will bring, particularly with Erika. Erika is shown preparing for her Las Vegas residency, Garcelle delves into her relationship with her sons, and viewers can expect more fireworks from Crystal Kung Minkoff and Sutton Stracke.
ALSO READ: Raees actor Mahira Khan breaks down at her second wedding with businessman Salim Karim [WATCH]
This season of "The Real Housewives of Beverly Hills" promises to be filled with emotional ups and downs, personal revelations, and intense interpersonal dynamics among the cast members. Fans will undoubtedly be eagerly awaiting each episode to see how these events unfold.
Last Updated Oct 5, 2023, 9:25 AM IST