Rhea Chakraborty conveying powerful statements through her fashion choices
Rhea Chakraborty's fashion statements convey powerful messages of resilience, mental health, and gender equality. She's back on MTV's 'Roadies,' making a significant impact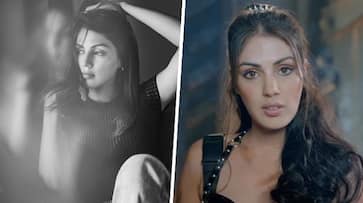 Rhea Chakraborty, a prominent actress in the entertainment industry, has not only captivated audiences with her charm but has also showcased resilience in the face of adversity. Throughout her life's journey, filled with numerous ups and downs, she has emerged even stronger.
Rhea is celebrated not just for her acting prowess but also for her distinctive fashion sense. Her style choices have consistently left a lasting impact on the masses, setting new standards in the fashion world. What sets her apart is her penchant for wearing attire adorned with inspirational quotes, with the noble intention of spreading positivity.
Recently, Rhea Chakraborty was spotted leaving the gym after an intensive workout session, and her choice of attire once again conveyed a powerful message. Her T-shirt boldly proclaimed, "Never Waste Talent," serving as a reminder that one should always strive to make the most of their abilities.
Notably, this is not the first time Rhea has used fashion to advocate for important causes. Just a few days ago, while at the airport in a casual ensemble with cargo pants and a T-shirt, she caught the attention of onlookers with another thought-provoking quote. This time, the message was about mental health, with her shirt reading, "ROSES ARE RED, VIOLETS ARE BLUE, LET'S TALK #MENTALHEALTH ME AND YOU." It's clear that Rhea is committed to raising awareness about crucial issues through her wardrobe choices.
ALSO READ: Akshay Kumar turns 56: Actor visits Mahakaleshwar temple with cricketer Shikhar Dhawan (Video)
Even during the challenging days of her court summons, Rhea Chakraborty continued to make a statement with her fashion choices. One memorable instance was when she sported a T-shirt that boldly declared, "Roses are red, Violets are blue, let's smash the patriarchy, me and you." This fashion statement generated significant buzz in both news and social media circles, showcasing her dedication to promoting gender equality.
ALSO READ: Jawan: Shah Rukh Khan thanks fans for their love and support amid film's success; here's what he wrote
On the professional front, Rhea Chakraborty, who began her career with MTV India, has made a remarkable return to the silver screen. She is now a part of the show 'MTV Roadies: Karm Ya Kaand,' where she serves as one of the Gang leaders. Her journey from her MTV beginnings to her current role as a mentor on the show is a testament to her enduring talent and resilience in the face of challenges. Rhea Chakraborty continues to inspire with her fashion choices and her unwavering commitment to important social causes.
Last Updated Sep 9, 2023, 11:50 AM IST