Remembering peerless piper of Varanasi Ustad Bismillah Khan: The unfulfilled last wish of shehnai maestro
Asianet Newsable caught up with Dr Shailesh Shrivastava who rendered her services as Director and Producer in Asia's largest National Network Channel ''Doordarshan'', Mumbai for more than three decades.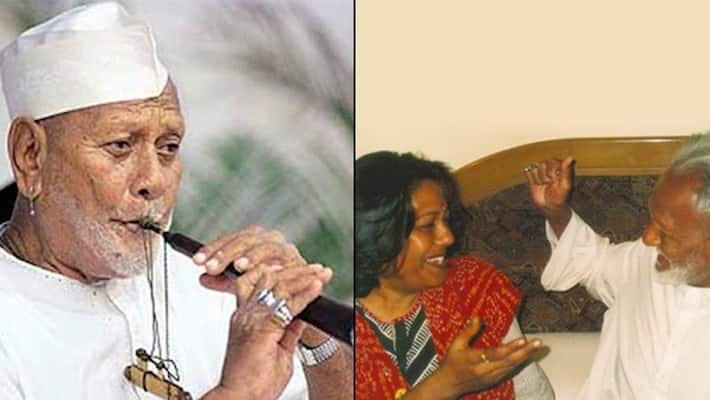 New Delhi: It is on this day 14 years ago, world famous shehnai maestro Bharat Ratna Ustad Qamruddin 'Bismillah' Khan left for his heavenly abode. He is not unknown to any music lover in India and abroad. He was popularly known, and got recognition for popularizing the shehnai, a sub continental wind instrument of the oboe class.
Asianet Newsable caught up with Dr Shailesh Shrivastava who rendered her services as Director and Producer in Asia's largest National Network Channel ''Doordarshan'', Mumbai for more than three decades. In an exclusive interview, she shared some unknown and rare facts about how the Ustad preserved Indian folk traditions, culture and spoke of his last wish.
''I got an opportunity to make a documentary on Ustad Bismillah Khan titled 'A peerless piper of Varanasi'. The only recording is available with Doordarshan, done by me. Khan Sahib spared his precious moments to teach me some valuable facts about traditional Ghazal and Bhajan. He was a divine soul,'' Dr Shailesh said.
Also read:  In spite of coronavirus protocols, UP Shia cleric wants to defy ban on Muharram rituals
''Unhe log videsh me rahne ko kahte toh woh kahte ki waham meri Ganga kahan hai, phir mai kaise wahan rahoonga? (When people asked him to reside abroad, pat came the reply – where is my Ganga there, how can I take refuge in an alien country?) When I asked him who else after Khan Sahib? He replied with a sweet smile on his face, people will witness whosoever take along my legacy further,'' she added.
Be it playback singing, folk, bhajan, or ghazal - Dr Shailesh herself is a versatile genius. Fusing the trendy pop idiom while still retaining the pristine purity of the folk form has been her forte. She produced many programs like National Programme of Music, Dance, documentaries and film-based program Rangoli. She is a recipient of Sangeet Natak Academy Award 2012 from the UP government and Junior Fellowship from Govt of India, Ministry of Culture. She has a rare collection of Indian folktales, nearly 1,500 from UP, western Bihar and other states. Times Music has already released albums Chatani Chataka and Hai Daiya featuring her.
Dr Shailesh further told Asianet Newsable, ''During the audition at Akashvani, Khan Sahib had been very honest as an expert judge. If any committee member felt that a candidate couldn't keep in sync with sur, then Ustad Sahab used to ask him (committee member) to clarify what was the perfect sur the candidate sang. Such an honest person Khan Sahab was.''
Also read:  Karnataka CET results 2020 declared, results available online at
His music heralded independence at Red Fort. His music echoed from the ramparts of Red Fort in New Delhi in August 1947- the day India declared its independence from the 200-year-old British rule. He also performed at the country's first Republic Day ceremony on January 26, 1950. Over the years, the music legend was heaped with prestigious awards and honours. Khan continues to be one of the few musicians to have received the Bharat Ratna, Padma Vibhushan, Padma Bhushan, Padma Shri and Sangeet Natak Akademi awards.
The versatile player whose music is considered to be a perfect blend of emotions and melody also played the shehnai for many Hindi films. Goonj Uthi Shehnai is one such movie, wherein he is said to have immortalised the shehnai. He is the man who introduced the world to the melody of Indian classical music and created a unique space for himself. However, it took him long to warm up to the idea of performing outside India, owing to his fear of flying.
Dr Shailesh said, "Ustad Bismillah Khan always stood for communal harmony and he attributed his skill as blessings of Lord Vishwanath. He also played background score for some movies. Sannadi Appanna – a Kannada movie where he played the shehnai for the character Apanna played by Rajkumar was a blockbuster hit in 1977. His last wish to play the shehnai at the India Gate for the Martyrs of India remained unfulfilled.''
Ustad Bismillah Khan was born in Bihar on March 21, 1916. Born to a family of court musicians, his musical journey started early in life with his uncle, Ali Bux 'Vilayatu', stepping in as his tutor in Varanasi. He was responsible for making shehnai popular single-handedly in India. At the All India Music Conference in 1937, Calcutta, he brought the shehnai to the spotlight of Indian classical music. His recitals had become a part of India's cultural programme for Independence Day celebration. He also performed for a global audience at Cannes Art Festival, Osaka Trade Fair, and World Exposition in Montreal.
He was buried with his shehnai at Fatemaan burial ground of old Varanasi with a 21-gun salute from the Indian Army. He was awarded the highest civilian honour - Bharat Ratna in 2001. On the occasion of his 14th death anniversary, let's come together to remember the man who always said: ''Even if the world ends, the music will still survive...''
Last Updated Aug 21, 2020, 4:05 PM IST