Raththam review: HIT or FLOP? Will Vijay Antony's film be able to win audiences' hearts? Read this
Raththam Twitter Review: CS Amudhan wrote and directed the film. Vijay Antony, Mahima Nambiar, Nandita Swetha, and Remya Nambeesan will play the main roles. Kannan Narayanan wrote the music. Read this before buying tickets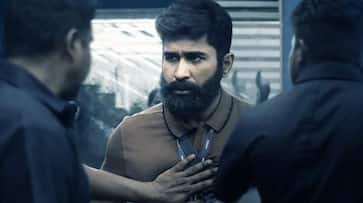 Ratham is directed by CS Amudhan and stars Vijay Antony, Mahima Nambiar, Ramya Nambeesan, Nanditha Swetha, and others. Kannan Narayanan wrote the soundtrack, and the film opens today. "A date with destiny for two lifelong friends," CS Amudhan said on his Facebook page. Tomorrow. "May it grant us a reprieve." 
Vijay Antony plays a crime journalist for the first time in his career. Here's what he said about his role, "It's a very risky profession. Policemen usually carry around a gun with them for protection, but crime journalists, who face equal risks at work, go about their jobs without any weapon or protection. There's immense risk to their lives. The plot revolves around what crime journalists undergo while carrying out an investigation forms the crux of the story."
Check back here for more intriguing Twitter reviews of the film Ratham.
The Ratham movie press conference was recently conducted in Chennai. Vijay Antony was there with his younger daughter Laura.
"Director Amudhan is my friend," Vijay Antony stated during the ceremony. His father worked very hard to teach me music. But he is irritated with me since I came to the cinema without having studied music. For a long period, I considered working with Amudhan. It is now doable after ten years. You may recognise him as a comedy film director. Aside from that, this film has revealed another side of him. This film is bound to be a success."
This is also his first cooperation with CS Amudhan. "His previous films, Tamizh Padam 1 and 2, were huge hits." This video is in an entirely different genre, and I am confident you will enjoy it. When I heard the account of Raththam, I was astounded. Do similar things occur in real life?"
About Raththam
When a string of murders wreaks havoc in Chennai, four cabinet ministers are forced to quit. The narrative delves into the relationship between the three pillars of democracy: the legislative, the judiciary, and the media.
 
Kamal Bora, Lalitha Dhananjeyan, Pradeep, Pankaj Bora, and Vikram Kumar produced the film on behalf of Infinity Film Ventures. The Ratham movie trailer drew attention and generated excitement for the film. Director Amudhan, who captivated audiences with his distinct flair, has now delved into a serious political narrative. The trailer begins with blood and murder, as the title suggests. Vijay Antony is shown in two poses: one with a full beard and one without.
Last Updated Oct 6, 2023, 9:09 AM IST