Rakhi Sawant in trouble: Tanushree Dutta files FIR, says 'this time, Rakhi won't be spared'
Bollywood actress Tanushree Dutta has FIR against Rakhi Sawant to the police. The actress spoke to the media about it, saying, 'his time Rakhi Sawant won't be spared.'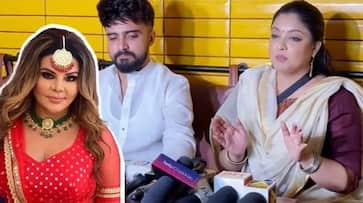 Tanushree Dutta has reported Rakhi Sawant to the police. During the Me Too Movement in 2018, she accused the actress of creating psychological anguish. Tanushree has filed a FIR against Sawant after writing a lengthy post on Instagram and sharing her anguish.
Tanushree Dutta files FIR against Rakhi Sawant
Tanushree has taken legal action to prevent Rakhi from ruining her public image. The actress has filed a FIR at the Oshiwara Police Station against Sawant. Tanushree told the journalists outside the police station, "I've come here to file a FIR against RakhiSawant for the psychological trauma she caused during the Me Too Movement in 2018." Many criminal provisions have been introduced to the FIR for a variety of reasons.". Tanushree addressed the media outside the police station and said, "I have come here to file an FIR against RakhiSawant for the psychological trauma that she caused in 2018 during the Me Too Movement. There are many penal codes added to the FIR based on multiple reasons."
She added and said, "We have made a record of each and every statement that she made against me. This time she won't be spared. Now the process has begun, they will take action soon and I have provided them with the whole background."
Tanushree even shared the kind of trauma and mental distress that she went through back in 2018 and said, "I went through a lot of emotional and psychological trauma because of Rakhi. She had said such terrible things about me. I couldn't take it. Rakhi has a new drama every year to stay in the limelight. She ruined my whole reputation. She attacked my personal life, I couldn't get married because of her. Rakhi kept pestering me for the longest time."
At the end, Tanushree even mentioned what took her so late to take action against Rakhi. "I was awake already, and I had filed the complaint against Nana Patekar in 2008 and 2018 too. Rakhi had made me so unwell and weak because of her cheap videos and allegations against me in 2018. Now that I am back and I have time to take things legal I will make sure Rakhi gets penalised for everything she has done to me. I admit, earlier I couldn't deal with her aggression but now I will," she concluded.
Tanushree Dutta Vs Rakhi Sawant
Tanushree Dutta also made a major accusation against Rakhi Sawant last month. She appeared at a news conference with Rakhi's ex-husband Adil Khan Durrani, accusing the Bigg Boss 14 participant of killing two youngsters. She said that they committed suicide because they were unable to combat the social media sensation.
Last Updated Oct 13, 2023, 2:30 PM IST