Rabindranath Tagore's 159th birth anniversary: 11 popular films based on Nobel laureate's works
On the 159th birth anniversary of Rabindranath Tagore, here are eleven must-watch films inspired by his works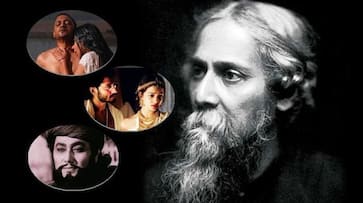 Bangalore: May 7 marks the 158th birth anniversary of Indian poet, author, philosopher, songwriter, composer, polymath Rabindranath Tagore. Winner of the Nobel Prize in Literature for his book of poems, Gitanjali, Tagore and his stories/poems were considered ahead of their time. His work continues to inspire people to this day.
Tagore has written the national anthems of not one but two countries; Jana Gana Mana for India, and Amar Sonar Bangla for Bangladesh. His influence on culture, literature, music and of course, cinema is unparalleled and commendable, to say the least. Some of India's best filmmakers like Satyajit Ray, Rituparno Ghosh, Suman Mukhopadhyay were inspired by Rabindranath Tagore's work.
On the bard's birthday, here are 11 must-watch films adapted from the works of Tagore, few of which can be found on Netflix, Hoichoi (Bengali movie app) and Amazon Prime.
Geet Gaata Chal: Geet Gaata Chal, directed by Hiren Nag released in 1975. The film stars Sachin, Sarika, Madan Puri, Padma Khanna and Leela Mishra. The movie is a remake of the 1965 Bengali movie Atithi, which was India's competitive entry at the Venice International Film Festival in 1966, where it was nominated for the Golden Lion.
Chaturanga: Directed by Suman Mukherjee, the movie Chaturanga released in 2008, featuring Rituparna Sengupta, Dhritiman Chaterji, Subrata Dutta, Joy Sengupta and Kabir Suman. The film deals with themes of religion, honour, 20th-century morality, misogyny and female sexuality. Based on the novel by author Rabindranath Tagore, Chaturanga the movie is about love caught between different worlds and ideas.
Chokher Bali: The movie is based on the novel Chokher Bali by Tagore. Talented filmmaker Rituparno Ghosh directed it in 2003. Chokher Bali features Aishwarya Rai, Raima Sen, Tota Roy Chowdhury and Tollywood's superstar Prosenjit Chatterjee. Ashalata (Raima Sen) and Binodini (Aishwarya Rai) refer to each other as Chokher Bali in the movie. Chokher Bali marked the Bengali film debut of Aishwarya Rai and Swastika Mukherjee in a cameo role. Chokher Bali won the National Film Award for Best Feature Film in Bengali. The film was later dubbed into Hindi and released abroad.
Lekin: The movie was based on the short story Kshudhit Pashaan by Rabindranath Tagore. Lyricist Gulzar directed Lekin. The movie starred Vinod Khanna, Dimple Kapadia, Amjad Khan, Alok Nath, and Beena Banerjee, and featured a special appearance by Hema Malini.
Ghare Baire: This Bengali romantic drama was released in 1984 by Satyajit Ray, based on the novel Ghare Baire by Tagore. It features Soumitra Chatterjee, Victor Banerjee, Jennifer Kendal and Swatilekha Chatterjee. Ghare Baire is a film that is set in the Partition-era, the movie revolves around a royal couple Nikhilesh and Bimala. When Nikhilesh's friend Sandip arrives at his home, his wife Bimala falls for Sandip. The movie won the 32nd National Film Award for Best Feature Film in Bengali.
Bioscopewala: This Hindi feature film is an adaptation of Rabindranath Tagore's short story Kabuliwala. The film stars Danny Denzongpa and Geetanjali Thapa in lead roles and premiered at the 30th Tokyo International Film Festival on 28 October 2017.
Uphaar: The movie features Jaya Bachchan, Swarup Dutt and Kamini Kaushal. Uphaar is based on the short story named Samapti by Rabindranath Tagore. The film was selected as the Indian entry for Best Foreign Language Film at the 45th Academy Awards but was not accepted as a nominee. The movie was also dubbed in Malayalam as Upaharam.
Kabuliwala: This was a Bengali film directed by Tapan Sinha. Kabuliwala is the story of Rahmat, a middle-aged fruit seller who comes to Kolkata from Afghanistan to sell his wares. Kabuliwala received the National Film Award for Best Feature Film and Best Feature Film in Bengali in 1956. The movie also won the Silver Bear Award at the 7th Berlin International Film Festival.
Charulata: This 1964 Indian Bengali drama film written and directed by Satyajit Ray based on the novella Nastanirh by Tagore. The movie is the journey of a lonely housewife Charu who feels ignored by her editor husband. When Charu's brother-in-law, Amal arrives at their house, Charu gets attached to him and after a point starts to crave for his love. It features Soumitra Chatterjee, Madhabi Mukherjee and Sailen Mukherjee. Charulata is considered one of the greatest films ever made in Bengali cinema and the song Ami chini go chini tomare o go videshini sung by Kishore Kumar is an evergreen number.
Noukadubi: Noukadubi is a Bengali drama film directed by Nitin Bose based on a 1906 novel of the same name by Rabindranath Tagore. The movie was a remake of 1946 Bollywood film Milan made by the same director Nitin Bose. The Hindi movie stars Dilip Kumar in the lead role. Later, another movie with the same name was released in 2011 by Rituparno Ghosh which featured Prosenjit Chatterjee, Jisshu Sengupta, Raima Sen and Riya Sen. The film was also dubbed in Hindi and released on May 2011 under the name Kashmakash. Subhash Ghai produced the film.
Tasher Desh: The film has been described as a "trippy" adaptation of the Rabindranath Tagore play. The movie features Soumyak Kanti DeBiswas, Anubrata Basu, Tillotama Shome, Rii, Joyraj Bhattacharjee, Tinu Verghese, and Immaduddin Shah in the lead roles. The film released in August 2013 and was directed by Q (Qaushiq Mukherjee) the movie has expletives words, rap music, anime-inspired production design and violence overall.
Last Updated May 8, 2020, 4:04 PM IST