Priyanka Chopra expressed happiness on SAG-AFTRA Hollywood strike coming to an end: Here's what she said
The SAG-AFTRA Hollywood strike, which lasted for five months, is coming to an end thanks to a tentative agreement agreed between the union and the studios. Priyanka Chopra expressed her satisfaction regarding the same.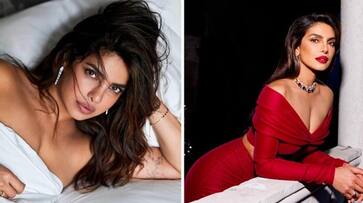 Priyanka Chopra praised the potential resolution of the SAG-AFTRA strike on social media by praising the tentative agreement reached by the Writers Guild of America (WGA) and the labour union representing the studios. With the studios and the streamers, the WGA stated that a tentative agreement had been reached. The important development might put an end to the 146-day writers' strike, giving the film industry much-needed relief. The SAG-AFTRA strike caused the cancellation of a number of movies and television programmes.
Following the announcement, various celebrities, including Priyanka Chopra, praised and honoured people who made a significant contribution to the success of this deal.  On Monday, September 25, the 'Citadel' actress posted a picture to Instagram to express her happiness. She congratulated herself and wrote, "Bravo!!! This is the outcome of a steadfast, coordinated position. We hope that this forward momentum will help bring the SAG AFRA deliberations to a close as well. The #WGA and the #AMPTP have tentatively agreed to a new contract after several protracted days of talks, marking a significant development that might hasten the end of the record, 146-day #WritersStrike (sic).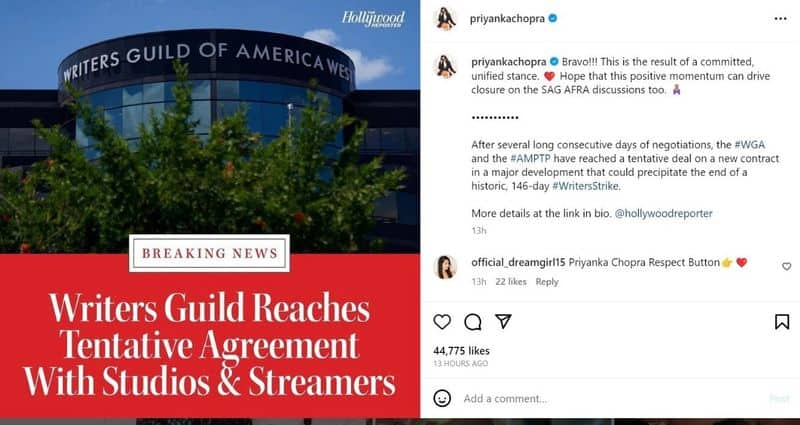 The Hollywood Reporter claims that on September 24th, the WGA sent out an email with the notification. They mentioned that they had a three-year contract in place with the major Hollywood studios. 11,500 film and television writers are covered by the WGA, which called the agreement "exceptional" and with "meaningful gains and protections for writers." However, before the agreement is finalised, the WGA members must approve it. In the upcoming days, specifics of the agreement are anticipated to be made public. Priyanka Chopra's "Heads Of State," which had been put on hold because of the strike, is allegedly about to begin again. In the movie "Cowboy Ninja Viking," she will also appear on screen alongside Chris Pratt from "Guardians of the Galaxy."
Last Updated Sep 26, 2023, 5:15 PM IST