Prithviraj Sukumaran pens special note on daughter Ally's 9th birthday; drops family picture
Malayalam actor-director Prithviraj Sukumaran is celebrating his daughter Alankrita Menon's 9th birthday today. Prithviraj married Supriya Menon, a former journalist and now a producer in 2011. They welcomed their daughter in 2014.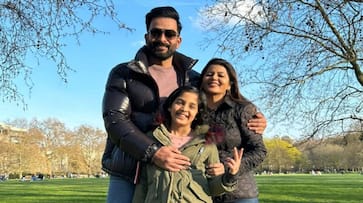 Malayalam actor and director Prithviraj Sukumaran posted a special birthday note for his daughter Alankrita Menon, fondly called Ally, as she turned 9 on Friday (Sep 9). The Lucifer director posted a family picture on his social media handles along with a note for his daughter, calling her 'forever sunshine'.
Sharing the family picture, Prithviraj wrote, "Happy birthday baby girl! All of 9 years old..and so many moments of you making Mamma and Daada feel like we are the children and you the parent! We are so much in awe of your compassion, forgiveness, and love for everyone and everything around you! So so proud of the incredible little human you've become! You are our forever sunshine! #AllyTurns9."
Prithviraj Sukumaran married Supriya Menon, a journalist who is now a producer, in 2011. The same year, the couple had a magnificent reception celebration for their loved ones. In 2014, they welcomed their daughter Alankrita Menon Prithviraj.
The Kaduva actor will next be seen in his forthcoming Bollywood film, Bade Miyan Chote Miyan. The actor is anxiously awaiting the premiere of his ambitious movie Aadujeevitham. The movie is now in post-production, and its release date is unclear. Director Blessy is behind the survival drama Aadujeevitham, which is based on best-selling author Benyamin's book of the same name. With actor Mohanlal, he will begin production on his ambitious project L2: Empuraan, a sequel to his feature film debut as a director in Lucifer.
Last Updated Sep 8, 2023, 4:23 PM IST