In Pics: Sandalwood actors Rachita Ram and Nikhil Kumaraswamy celebrate Shivaratri in Dharmasthala
Rachita and Nikhil Kumaraswamy visited the Dharmasthala temple on the occasion of Maha Shivaratri on Monday. Here are the pictures that show how the actors observed the major festival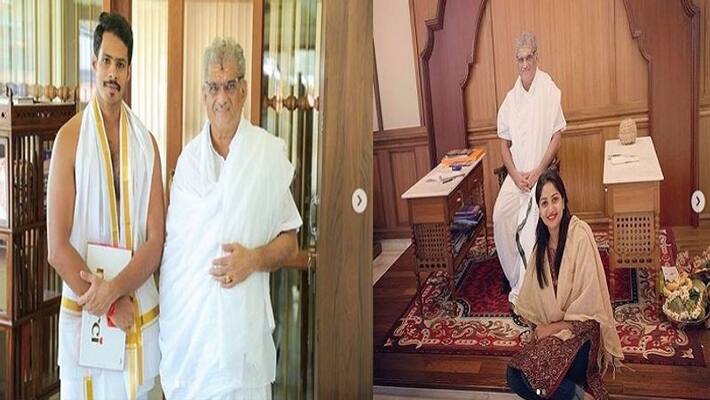 Bengaluru: Seetharama Kalyana actors Nikhil Kumaraswamy and Rachita Ram observed Maha Shivaratri at Sri Kshethra Dharmasthala Sri Manjunatha Swamy Temple in Dakshina Kannada district. Both visited the temple separately and shared photos of the same in their respective Instagram handles.
Nikhil and Rachita also shared the pictures of the them visiting Dr Veerendra Heggade, philanthropist and hereditary administrator (known as dharmadhikari) of the Dharmasthala temple.
The visit of the Seetharama Kalyana actors to Dharmasthala on the same occasion has given rise to speculation of their growing friendship. Recently, in an interview in which she was accompanied by Nikhil, Rachita had said that he wants to marry a boy from the Gowda community. Nevertheless, it's only rumours at this point among fans who love to put two and two together.
Here are the pics of Nikhil, Rachita in the Dharmasthala temple:
Last Updated Mar 5, 2019, 3:41 PM IST